Car repos surge as some car owners struggle to make payments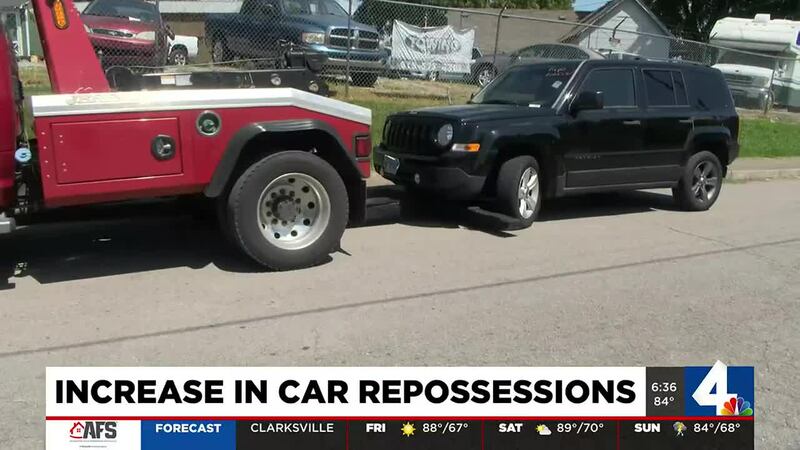 Published: Aug. 18, 2022 at 7:51 PM EDT
NASHVILLE, Tenn. (WSMV) - Tow truck drivers said they are seeing a surge of vehicle repossessions amid a trifecta of inflation, gas prices and poor spending habits.
In the past month, Andre's Towing said it's getting between 10 and 15 repo calls each day.
"I was say tax returns, for the most part, are probably one of the biggest reasons," Hermes Conde said. 'People get a couple thousand dollars back from their tax returns and they go put $2 or $3,000 down and get a car and maybe bite off mor than they can chew."
Some economists suggest the surge in car repossessions can be traced back to COVID relief programs when people chose to buy cars with stimulus checks.
COX Automotive reports while car repossessions are up, they aren't at historically high levels.
They expect the default rate to increase through the end of 2023 based on historic inflation and concerns about a recession.
"I will tell you, most people, they already know that we are coming and they're just like, 'Hey man, you got me," Conde said.
Conde keeps his tow truck ready, knowing repossessions sometimes must be quick. For his safety, he keeps things polite and professional.
"I think the delivery of how we come across as repo men to the people having their vehicle repossessed; it's literally the difference between something going completely south and something just going, 'Hey man, sorry you're on bad times. I'm just here to do my job,'" Conde said.
Financial crises aren't uncommon. The Federal Trade Commission said most people will have money trouble at least once in their lifetime. The FTC offers this advice for people who are behind on car payments:
Don't wait. Call the company you owe money to before a debt collector gets involved.

Try to work out a new payment plan with lower payments you can manage.

You might be better off selling the car and paying off the debt.

If your car is repossessed, you may have to pay towing and storage costs to get it back.
For more advice on how to get out of debt and what to do if you're car is repossessed, visit the FTC website.
Copyright 2022 WSMV. All rights reserved.