Clouds increase overnight, rain around for Sunday
Meteorologist Jacob Durham is tracking some storms for Sunday
Published: Sep. 24, 2022 at 5:44 AM EDT
|
Updated: Sep. 24, 2022 at 11:28 PM EDT
KNOXVILLE, Tenn. (WVLT) - Rain chances remain low through the first half of the overnight. Starting out Sunday morning a batch of showers and downpours move in from the west and could impact you plans through early morning. A front is set to move in during the afternoon and bring another line of storms with the potential for a few stronger storms.
Join us on the WVLT First Alert Weather app for iPhone or Android, so you can stay informed on the go and in between newscasts. We share custom videos, plus you can choose to get message from us on the latest conditions and forecast.
WHAT TO EXPECT
A mix clouds and clear skies will be the name of the game through the overnight as temperatures slowly cool. Thanks to an increase in clouds and humidity our temperatures won't be as cool to start the day on Sunday as lows start out in the lower 60s.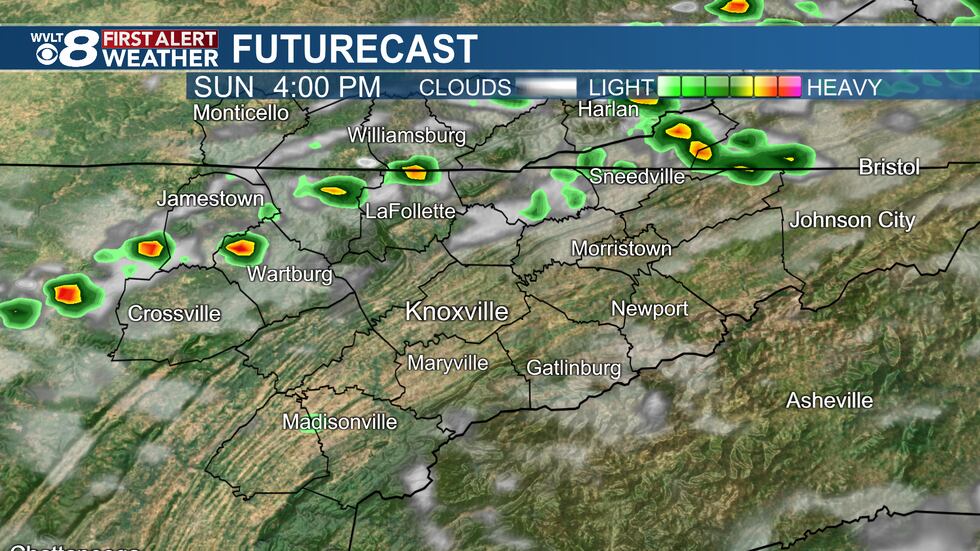 A few breaks in the clouds are possible into the afternoon and that will allow us to warm fairly quickly to near 80 degrees. If we do get some daytime heating that will feed energy into the storms and bring the potential for some gusty winds and maybe some small hail. We'll keep a close watch on that forecast as we head through the evening and into Sunday.
LOOKING AHEAD
Once the front passes get ready for another wonderful taste of Fall as temperatures will cool once more and plenty of sunshine returns. Highs will stay consistent throughout the week in the middle 70′s for bother Monday and Tuesday and then cooling into the lower 70s for the middle of the week.
Lows overnight will be on the chilly side as we see several nights in the upper 40s with a few rural locations into the lower 40s. A close eye will also be kept on the tropics as we have Tropical Storm Ian in the Caribbean. It could have some impacts on our weather by late next week, but we still have plenty of time to watch.
Copyright 2022 WVLT. All rights reserved.