Stray showers today, more rain and a few storms with our next front Tuesday
Meteorologist Paige Noel is tracking rounds of heavy rain and a few thunderstorms with our next cold front.
Published: Jan. 1, 2023 at 5:33 AM EST
|
Updated: Jan. 1, 2023 at 7:28 AM EST
KNOXVILLE, Tenn. (WVLT) - Stray showers are possible today, but most of us stay dry. We'll increase our chances for rain with our next cold front arriving Tuesday and sticking around through Wednesday. A few storms are possible as well.
Join us on the WVLT First Alert Weather app for iPhone or Android, so you can stay informed on the go and in between newscasts. We share custom videos, plus you can choose to get messages from us on the latest conditions and forecast.
WHAT TO EXPECT
This morning, we are starting out with mostly cloudy skies and patchy fog. Most of us are in the upper 40s to lower 50s. We'll see a mixture of sun and clouds this afternoon with a warm high of 62 degrees.
Clouds increase once again tonight with some patchy fog. A stray shower or two is possible throughout the day on Monday with highs getting closer to the mid-60s.
LOOKING AHEAD
Our next cold front arrives Tuesday bringing rain and a few thunderstorms. Rain looks on and off throughout the day to soggy by the evening and overnight hours. We are looking at about an 80% coverage late Tuesday. Rain continues early Wednesday but tapers off throughout the day. We'll be in the mid to upper 60s both days.
Temperatures are slow to drop after the cold front. A few showers linger Thursday and Friday. Highs will be near 50 Thursday but drop into the lower 40s by Friday.
Later in your First Alert 8-Day Planner, we'll be near average for the weekend with a mixture of sun and clouds.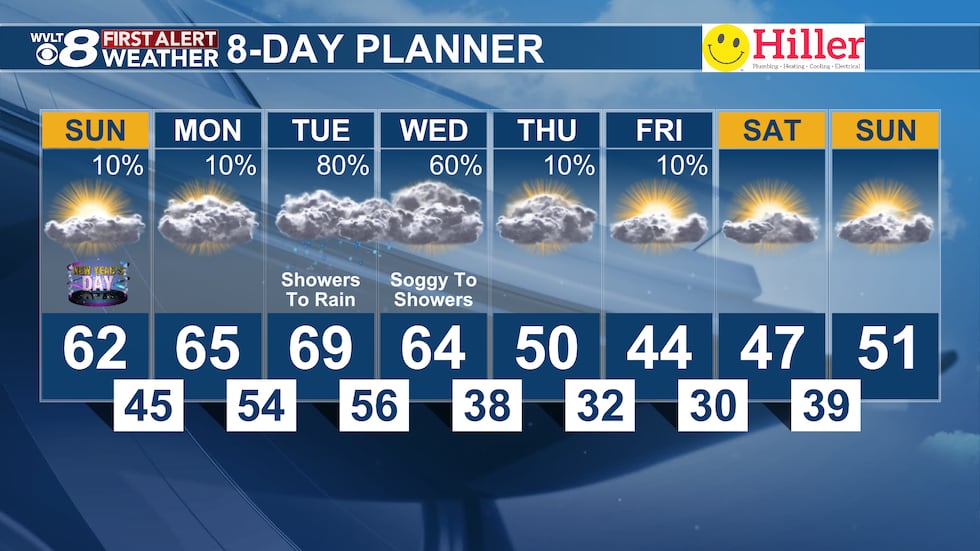 Copyright 2022 WVLT. All rights reserved.