Seasonable temperatures with more sunshine to end the week
Meteorologist Paige Noel is tracking light showers for the weekend.
Published: Jan. 4, 2023 at 2:48 PM EST
|
Updated: Jan. 4, 2023 at 8:42 PM EST
KNOXVILLE, Tenn. (WVLT) - The rain is gone for now as we cool off the next few days. Temperatures are seasonable for the next several days with more sunshine to end the week.
Join us on the WVLT First Alert Weather app for iPhone or Android, so you can stay informed on the go and in between newscasts. We share custom videos, plus you can choose to get messages from us on the latest conditions and forecast.
WHAT TO EXPECT
We'll wake up on Thursday morning with temperatures at about 38 degrees.
Thursday starts with a few clouds, but is a mostly sunny afternoon, with a high of 54 degrees. A few clouds return Thursday evening through the overnight, and a stray snow shower is possible in the mountains Thursday night, with a low of 32 degrees.
LOOKING AHEAD
A few light showers return to our area late Saturday through Sunday. Afternoon temperatures are around 50 degrees, and the nightly lows are back in the 30s. We could see a few snow showers in the higher elevations again Saturday night.
In your First Alert 8-Day Planner, we'll continue to linger around the seasonable upper 40s for highs with a few passing clouds to start next week.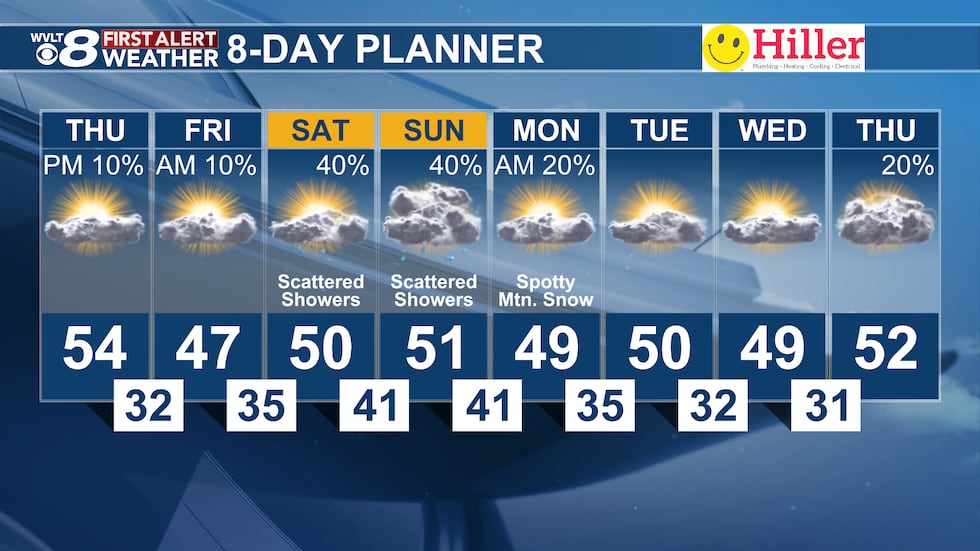 Copyright 2023 WVLT. All rights reserved.