Sunshine stays for Saturday, before rain returns Sunday
Meteorologist Ben Cathey is tracking our next chance of rain this weekend.
Published: Jan. 20, 2023 at 3:26 PM EST
|
Updated: Jan. 20, 2023 at 11:04 PM EST
KNOXVILLE, Tenn. (WVLT) - Enjoy the sunshine for your Saturday as temperatures remain pretty seasonable as clouds will slowly begin to build heading into the overnight. Most areas will remain dry for all of Saturday as showers and downpours begin to arrive heading Saturday night into Sunday, which will round out the weekend on a soggy note.
Join us on the WVLT First Alert Weather app for iPhone or Android, so you can stay informed on the go and in between newscasts. We share custom videos, plus you can choose to get messages from us on the latest conditions and forecast.
WHAT TO EXPECT
If you have plans to head out later tonight, you'll want to have the coat handy as temperatures fall quickly through the night as widespread frost and freeze will be the theme for Saturday morning. Good news is we start the day with plenty of sunshine and that will help to warm fairly quickly through the afternoon with high temperatures climbing into the upper 40s to near 50.
As we progress through Saturday evening clouds will begin to stream in from the south and become widespread late Saturday night before rain chances begin to increase early Sunday morning. Moving into Sunday morning we can expect scattered to widespread showers and downpours to start the day. Rain becomes a little more spotty into the afternoon and evening as we begin to dry out.
LOOKING AHEAD
Some of the showers left Sunday night and into Monday morning will transition to snow showers for the mountains and higher elevations before drier weather settles in with more sunshine Monday afternoon. Temperatures remain steady over the course of the next few days before gradually warming into the lower 50s by the middle of next week.
Rain chances will decrease Monday afternoon through much of Tuesday before increasing Tuesday night into Wednesday. Some colder air funnels in behind the front late next week and will provide the chance of a few snow showers.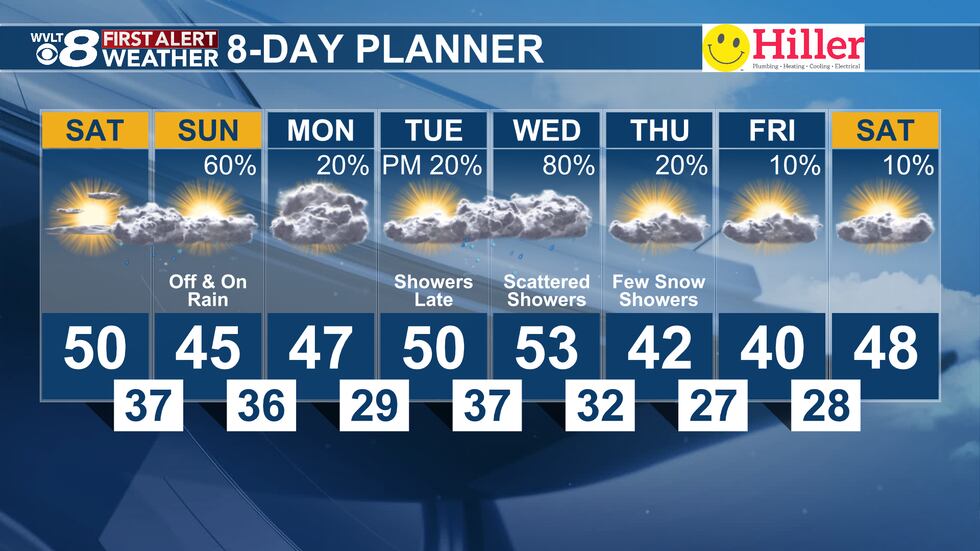 Copyright 2023 WVLT. All rights reserved.