Dry start with plenty of sunshine for Monday
Meteorologist Jacob Durham is tracking warmer temperatures for the week ahead.
Published: Feb. 5, 2023 at 4:34 PM EST
|
Updated: Feb. 6, 2023 at 12:20 AM EST
KNOXVILLE, Tenn. (WVLT) - Hopefully you are enjoying the wonderful weather with the sunshine and warmer temperatures as they remain in the forecast to start the upcoming week. Changes are ahead moving forward as our next cold front begins to approach the region bringing showers and some colder temperatures by late week.
Join us on the WVLT First Alert Weather app for iPhone or Android, so you can stay informed on the go and in between newscasts. We share custom videos, plus you can choose to get messages from us on the latest conditions and forecast.
WHAT TO EXPECT
A few clouds continue to stick around through the overnight and into Monday morning, but that won't stop temperatures from cooling overnight as we head back into the lower and middle 30s for Monday morning. Patchy dense fog will be possible for a few areas to start the day so you will need to keep an eye out at the bus stop for kids and allow yourself a little extra time before heading to work.
Mostly sunny skies will arrive for the afternoon and with calmer winds it will make for a nice afternoon ahead as temperatures will remain above average. Highs Monday are back into the middle 50s. Winds won't be as big of a factor for the afternoon so a light jacket may be all you need as you head out the door or maybe to the park to enjoy some fresh air. Warmer weather is still to come as we are slowly building the afternoon temperatures through the week.
LOOKING AHEAD
Clouds begin to increase on Wednesday and that will eventually lead to scattered showers as we head into Wednesday night and Thursday morning. Rain will slowly taper through Thursday afternoon as temperatures remain steady in the lower 60s. Clouds stick around for the majority of Friday before additional showers arrive and transition to some snow for the higher elevations.
Temperatures do take a plunge heading into next weekend as we are back into the lower 40s Saturday and slowly begin to warm as we head into early next week.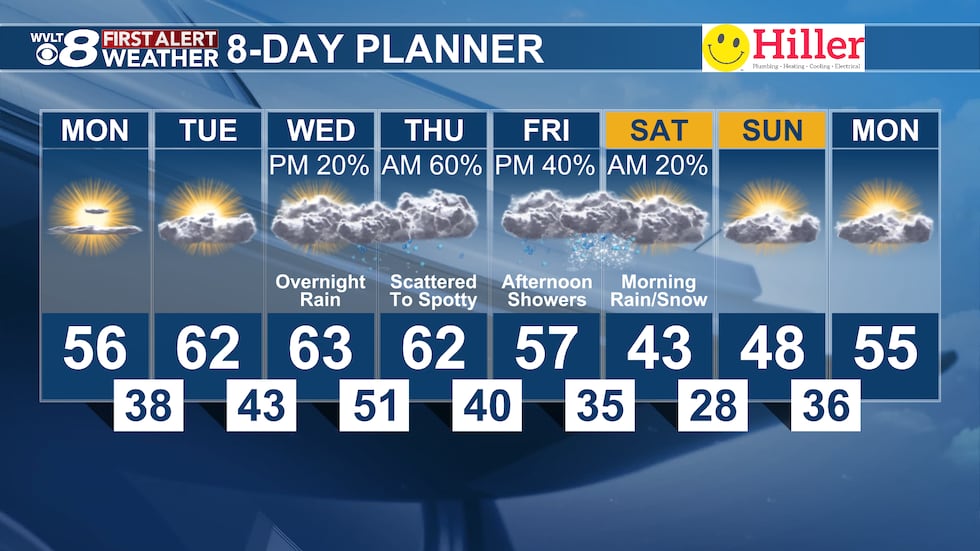 Copyright 2023 WVLT. All rights reserved.