Memphis Fire Fighter Association President defends department in letter to Memphis City Council
Published: Feb. 11, 2023 at 8:14 PM EST
|
Updated: Feb. 11, 2023 at 11:07 PM EST
MEMPHIS, Tenn. (WMC) - In a letter sent to Memphis City Council on Friday, Memphis Fire Fighters Association President Thomas Malone said he was "disheartened" by the narrative he believes was displayed that systemic problems exist within the Memphis Fire Department.
The letter goes on to state he believes otherwise. Among the topics in the letter, Malone brought up the Memphis Fire Department's retention problem. That's also something that Chief Gina Sweat addressed in Tuesday's City Council Public Safety Committee meeting.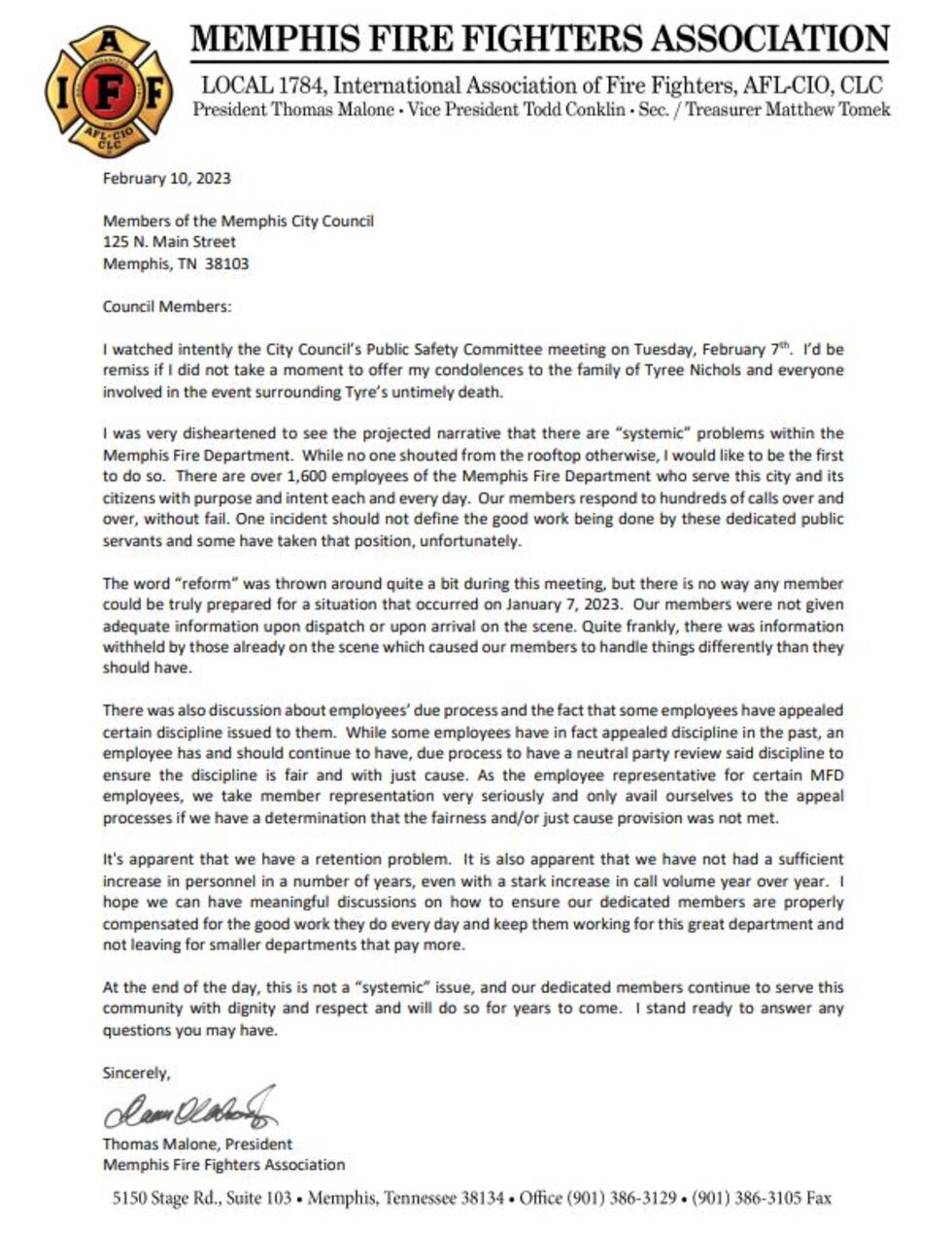 Chief Sweat said today 80 percent of the calls MFD responds to are emergency response calls. That's a 10 percent increase over the last six years and 2.5 percent more than in 2021. According to Sweat, this increase coupled with the fact over 65 percent of the MFD had to be replaced since 2018, means retention is something they need to address immediately.
"The number one topic is how do we recruit and how do we retain in this new environment we're in," Chief Sweat told Memphis City Council on Tuesday.
Councilman for District 5 Worth Morgan told Action News 5 on Saturday that he agrees that should be the main issue addressed right now.
"We should be doing everything to recruit and retain the best of the best for our fire and police departments," Morgan wrote. "No other action will have a more significant impact."
The letter sent by Malone also discussed this, but it went on to blame poor information given by officers on the scene for ill-preparing the MFD personnel that responded to Tyre Nichols' fatal traffic stop.
Councilman JB Smiley asked Chief Sweat about this same issue at Tuesday's meeting. Sweat responded, "obviously they did not perform at the level we would expect, or the citizens of Memphis deserve." Sweat went on to say, "they did not perform within the guidelines of the policies that are already set forth and that's why they are no longer with us."
That decision is something that the two EMT's and lieutenant are currently appealing, which Action News 5 confirmed with Memphis Mayor Jim Strickland's office on Saturday.
Click here to sign up for our newsletter!
Click here to report a spelling or grammar error. Please include the headline.
Copyright 2023 WMC. All rights reserved.