Sunny today but tracking up and down rain chances for the new week
Meteorologist Paige Noel is tracking multiple rounds of light rain this week.
Published: Feb. 19, 2023 at 5:50 AM EST
|
Updated: Feb. 19, 2023 at 10:18 AM EST
KNOXVILLE, Tenn. (WVLT) - Get outside today! Sunshine continues with even warmer temperatures. Plus, up-and-down rain chances return for the new work week, so enjoy the sunshine while we have it.
Join us on the WVLT First Alert Weather app for iPhone or Android, so you can stay informed on the go and in between newscasts. We share custom videos, plus you can choose to get messages from us on the latest conditions and forecast.
WHAT TO EXPECT
We are looking at a lot of sunshine today! Winds from the southwest 10-15 mph and gusting up to 20 mph will help warm us up into the lower 60s this afternoon. Clouds filter back in overnight into Monday morning.
LOOKING AHEAD
Clouds and showers return Monday with highs remaining in the lower 60s. The light showers are on and off throughout the day. A few showers linger overnight into Tuesday where we warm up into the mid-60s.
Winds pick up Wednesday with a mixture of sun and clouds. Highs are nearing the mid to upper 70s Wednesday into Thursday! A stationary boundary stays to the northwest of us, which is why we'll see these on-and-off rain chances throughout the week. That front looks to finally push through on Thursday bringing us temperatures back in the 50s by Friday.
Later in your First Alert 8-Day Planner, temperatures rebound quickly next weekend with scattered showers.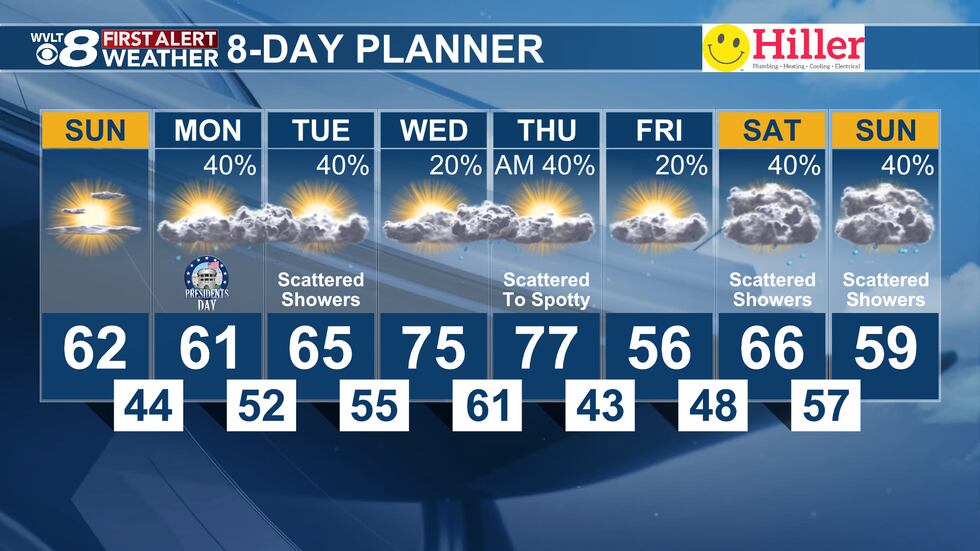 Copyright 2023 WVLT. All rights reserved.