'Be tenacious' | Karoline Striplin, Lady Vols ready ahead of SEC semifinals
The Lady Vols faced their fair share of adversity this season, but they're still in search of a statement win.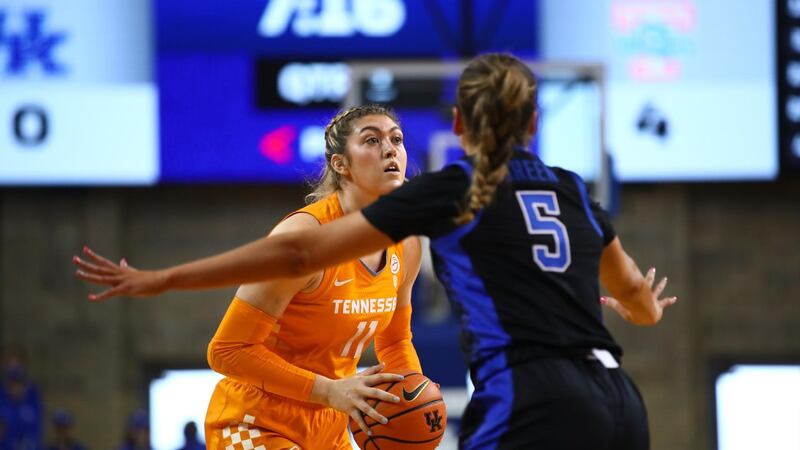 Published: Mar. 4, 2023 at 1:12 PM EST
KNOXVILLE, Tenn. (WVLT) - The Lady Vols faced their fair share of adversity this season, but they're still in search of a statement win.
Even without it, this team continues to fight and it's led them to the semi-finals of the SEC Tournament for the third straight season.
Their non-conference schedule was one of the toughest in women's college basketball, but it prepared them for conference play. The Lady Vols handled business and clinched a double-bye as the three seed.
Five days after concluding their regular season with a win on the road against Kentucky, the team had several off days to focus on themselves.
Coach Kellie Harper said the priority was time and scoring situations.
Sophomore Karoline Striplin highlights how they're approaching Saturday's final four game.
"We got to come out and be tenacious. This coach, Kellie, has really been preaching all season really to be relentless on the offensive boards, defense, taking care of the ball. I think it just ultimately comes down to focus and doing what we know we can do," said Striplin.
As Striplin reflects on their ranked games, there were moments where they either had a sizable lead or they kept the game close.
Though each time it was that fourth quarter where there was some breakdown, preventing them from capturing that victory.
The 6-foot-3-inches forward added, "I think that ultimately it came down to focus. I think early in the season, we would play really great for like three quarters and then I don't know somehow we would just taper off and not finish as well as we should, but I think that as we progressed we've definitely had more focus. Even just coming out of halftime and having a good third quarter leading into the fourth. I think that that's what's been helping us."
Despite the struggles to capture a win against a ranked opponent, it's served as their greatest motivator.
"I think the greatest motivator is our want and our willingness to win," said Striplin. "I think that you saw earlier in the season that we were struggling a little bit, and I think that us falling out of the rankings made us want to win more and gave us a little bit more grit and passion for the sport. And I think that it's obviously not the ideal situation, but just being able to go out every night and prove that we can do that's really important for us."
The Lady Vols have proven time and time again that they can hang with the best of them, but they've lacked the endurance.
To calm the nerves of Lady Vol fans, Tennessee was one of the few teams this season that finished their game within single digits of the Tigers.
Saturday night is when the Lady Vols need to realize their potential.
The tip-off is at 6:30 p.m.
Copyright 2023 WVLT. All rights reserved.