Sunshine and soggy weather returns for the weekend
Meteorologist Paige Noel says one day is better than the other this weekend.
Published: Mar. 10, 2023 at 3:29 AM EST
|
Updated: Mar. 10, 2023 at 12:24 PM EST
KNOXVILLE, Tenn. (WVLT) - Some sunshine returns this afternoon and sticks around through the majority of the day on Saturday. A cold rain arrives Sunday and sticks around throughout the day.
Join us on the WVLT First Alert Weather app for iPhone or Android, so you can stay informed on the go and in between newscasts. We share custom videos, plus you can choose to get messages from us on the latest conditions and forecast.
WHAT TO EXPECT
The cloud slowly move out of here this afternoon leaving us with some sunshine and highs near 58 degrees this afternoon. Areas along the Plateau and Southeastern Kentucky will get in on the colder air first, allowing them to stay near 50 degrees for a high. Winds shift from the northwest this afternoon and gust up to 25 mph.
Cold air filters in tonight dropping temperatures to near 35 degrees by Saturday morning.
LOOKING AHEAD
A stray shower or mountain snow shower lingers overnight Friday but is gone by Saturday morning. Saturday looks mostly sunny most of the day with increasing clouds in the afternoon to evening. The high will be around 56 degrees.
Rain moves in late Saturday and really lasts through Sunday with only some pauses and an overall rainy day. This adds up to at least an inch of rain for most of our area. It's a cold rain too with highs only in the lower 50s.
In your First Alert 8-Day Planner, scattered rain changes to a few snow showers early Monday. Stray mountain snow showers lingers into early Tuesday as well with highs are in the upper 40s for the first half of next week.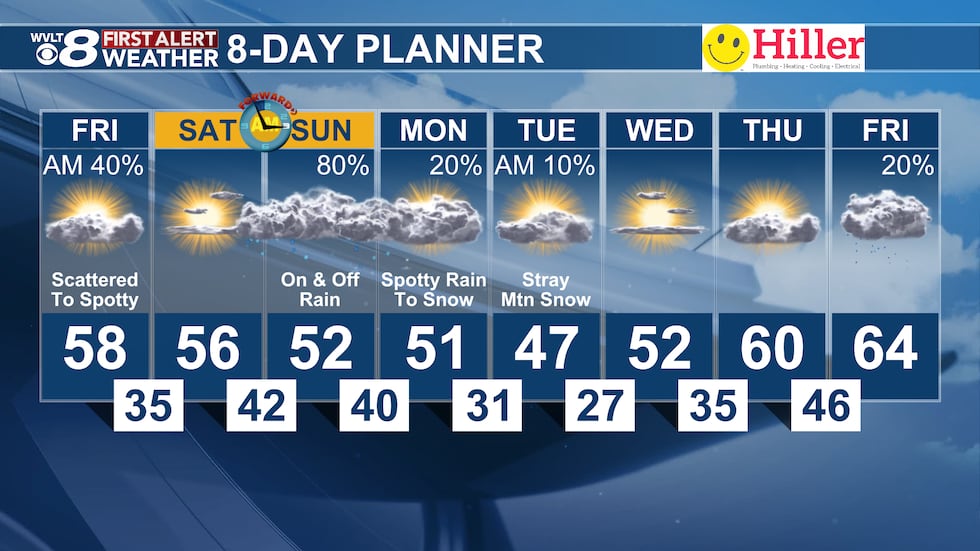 Copyright 2023 WVLT. All rights reserved.