Keep the jacket with you on Sunday
Enjoy the sunshine as we move into the afternoon and it's going to be with us again on Monday.
Published: Mar. 19, 2023 at 7:22 AM EDT
|
Updated: Mar. 19, 2023 at 9:59 AM EDT
KNOXVILLE, Tenn. (WVLT) - Sunday starts with clear skies, but it's really cold with temperatures in the 20s. Sunshine will be with us for much of the day and again on Monday as well.
Join us on the WVLT First Alert Weather app for iPhone or Android, so you can stay informed on the go and in between newscasts. We share custom videos, plus you can choose to get messages from us on the latest conditions and forecast.
WHAT TO EXPECT
We're staying dry for the next couple of days. On Sunday we're going to struggle to get out of the 40s with a mix of sun and clouds as we move into the afternoon.
It's a cold start to Monday as well as many head back to work and school. Monday will start in the 20s once again.
By the afternoon on Monday we'll see plenty of sunshine and the good news is, it's going to be warmer with an afternoon high in the 50s. Monday night a few more clouds will move through, but we are cold once again at 28 degrees for the overnight low.
LOOKING AHEAD
A few clouds make a return for Wednesday with a stray shower or two possible.
Better rain chances make a return for Friday and into next weekend with he next cold front. Highs will warm into the lower 70s by the end of the week before a cool down arrives behind the front.
That front does increase rain chances moving into the weekend. Scattered rain chances are with us both Friday and the start of Saturday.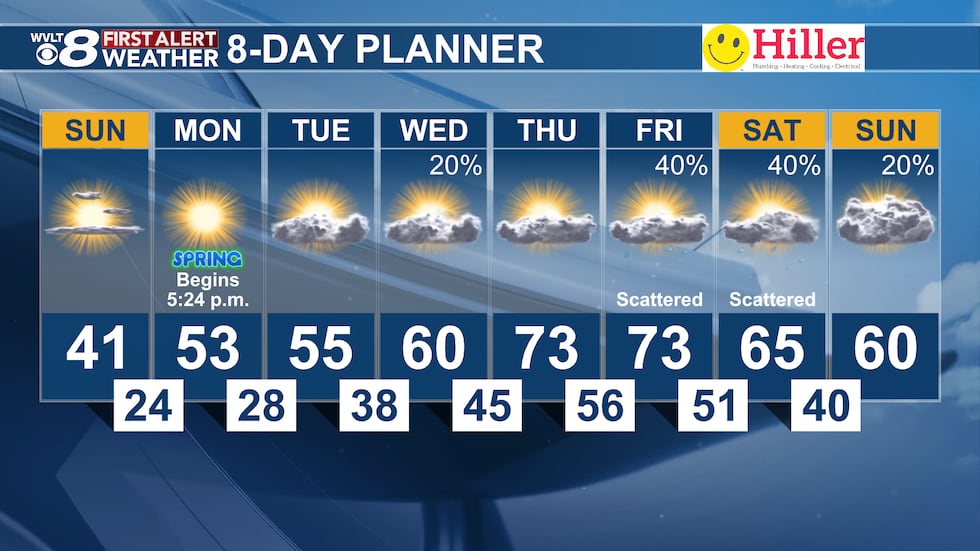 Copyright 2023 WVLT. All rights reserved.