Fort Campbell soldiers killed in helicopter crash honored during memorial
Nine Fort Campbell soldiers killed in a helicopter crash were honored during a memorial service in Clarksville on Thursday.
Published: Apr. 13, 2023 at 5:14 PM EDT
|
Updated: Apr. 13, 2023 at 8:48 PM EDT
CLARKSVILLE, Tenn. (WSMV) - The Fort Campbell soldiers that died in a helicopter crash were honored during a memorial service on Thursday.
The 101st Combat Aviation Brigade hosted the memorial in Clarksville to honor the lives of the nine soldiers killed in the March 29 helicopter crash in Trigg County, Kentucky.
The service was held at F&M Bank Arena and it was also streamed online for family and loved ones that were unable to attend it in person.
"Many of us continue to be shocked and numbed by this tragedy," 101st Commanding General Officer Maj. Gen. JP McGee, said. "Each of these nine soldiers were irreplaceable national treasures."
"They wore more than flight suits. They wore the cloth of our nation and proudly adorned the American flag on their soldiers," Lt. Col. Tyler Espinoza, said. "They understood their roles as both combat air crew members and front-line soldiers who literally flew to the sounds of gunfire and the cries for help."
"They were more than pilots and crew chiefs and flight medics, we knew them as much more," Espinoza said. "They were brilliant, they were funny, and they were caring."
"The Wings of Destiny would like to extend its thanks and gratitude to everyone joining via live stream, and those who continue to show support to our troops and their loved ones," The 101st Combat Aviation Brigade said.
The 101st CAB honored the fallen soldiers by dedicating a 9K memorial run in their honor on Tuesday.
These are the nine Fort Campbell soldiers that lost their lives in the helicopter crash:
Sgt. Caleb Gore, 25
Sgt. Taylor Mitchell, 30
Warrant Officer 1 Jeffery Barnes, 33
Cpl. Emilie Marie Eve Bolanos, 23
Chief Warrant Officer 2 Zachary Esparza, 36
Sgt. Isaacjohn Gayo, 27
Warrant Officer 1 Aaron Healy, 32
Chief Warrant Officer 2 Rusten Smith, 32
Sgt. David Solinas Jr, 23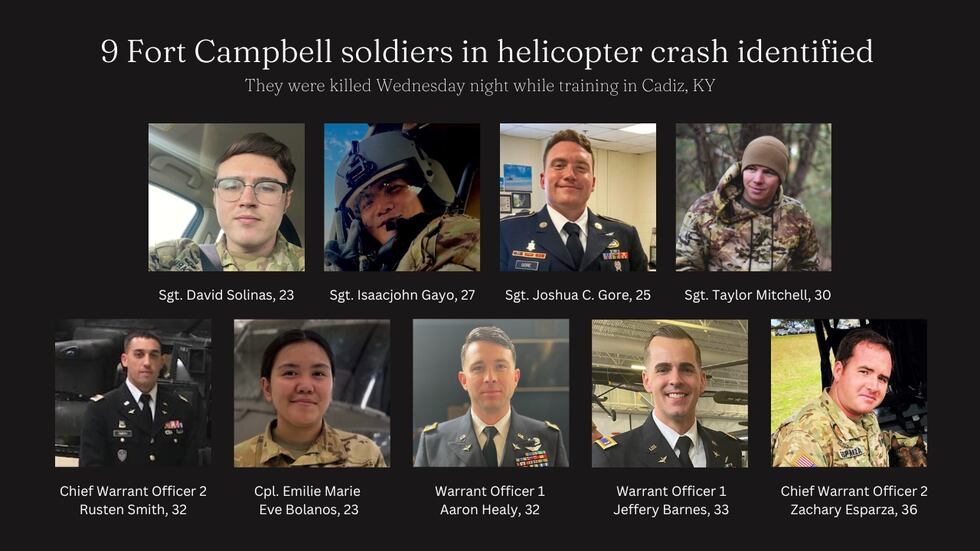 Copyright 2023 WSMV. All rights reserved.