Clouds build to rain for some this weekend
Periods of rain will be with us for the start of our Sunday, becoming spotty in the afternoon.
Published: May. 26, 2023 at 3:24 PM EDT
|
Updated: May. 26, 2023 at 10:26 PM EDT
KNOXVILLE, Tenn. (WVLT) - We've got another pleasant evening ahead for us on this Friday night. Only one or two stray showers will move around the area. Saturday into Sunday brings the clouds followed by the widespread rainfall.
Join us on the WVLT First Alert Weather app for iPhone or Android, so you can stay informed on the go and in between newscasts. We share custom videos, plus you can choose to get messages from us on the latest conditions and forecast.
WHAT TO EXPECT
We'll wake up on Saturday morning nice and mild, a few stray areas of fog and more sun than clouds. It's through the day that we'll build the clouds that leads to some evening rain for the areas NE of Knoxville.
High temperatures on Saturday will be near 74.
The tropical moisture moving in from the Carolina's settles in overnight Saturday and into Sunday.
LOOKING AHEAD
The good news for those of you who don't want rain on Sunday, the trends are taking the moisture more NE of Knoxville. Some areas like Athens may not see any rain, while Newport gets soaked.
We'll generally pick up around a quarter to half inch of rain with some pockets of 1″ or more. Sunday comes in much cooler with the rain staying at 65.
Memorial Day on Monday looks a whole lot better, back to near 80 for the afternoon and an isolated chance for a shower in the afternoon. The humidity will start to creep back up making it feel a little sticky at times.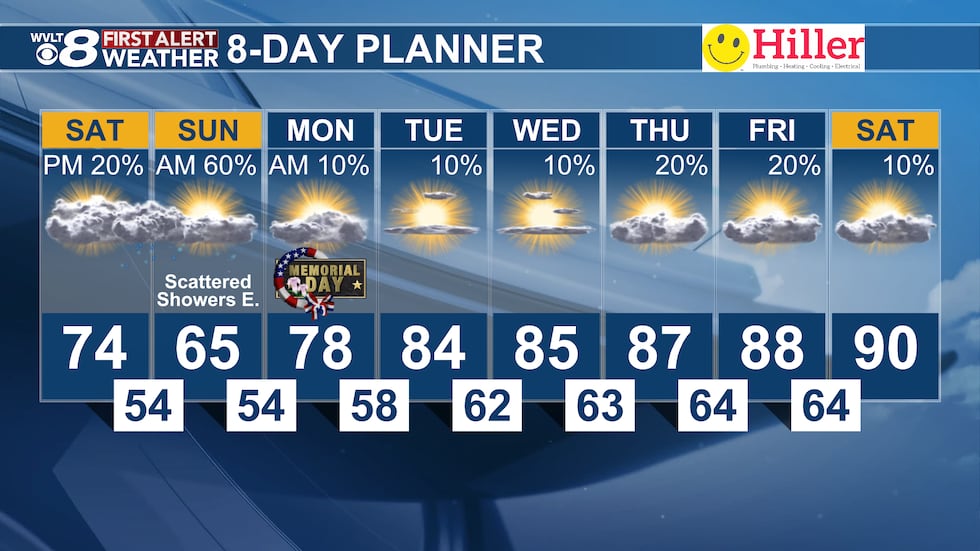 Copyright 2023 WVLT. All rights reserved.