Varsity All Access | Week 6 Games to Watch
Powell looks to end Halls' perfect season in Game of the Week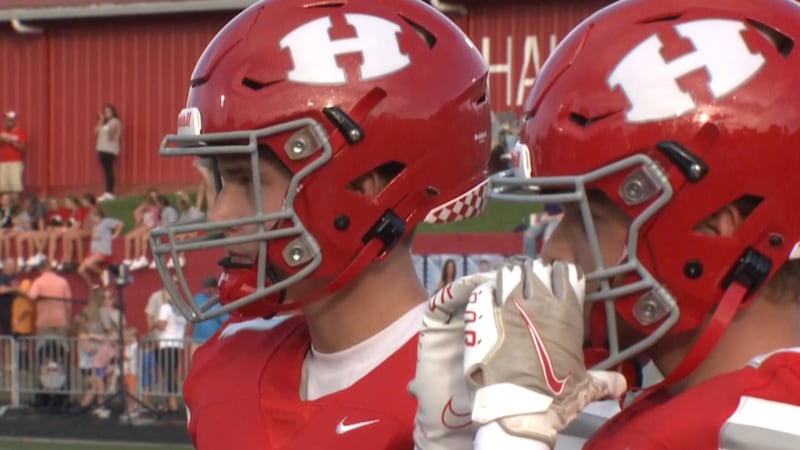 Published: Sep. 22, 2023 at 7:09 PM EDT
|
Updated: Sep. 23, 2023 at 12:11 AM EDT
KNOXVILLE, Tenn. (WVLT) - We're officially into the home stretch. The playoff push is on and the chase for region championships is underway.
As we enter Week 6, multiple unbeatens will put their perfect records on the line on Varsity All Access. It's time to break down the top five games you need to watch on this week's schedule.
GAME OF THE WEEK | POWELL at HALLS (34-17, Final)
Halls continues to win convincingly. The Red Devils have yet to play a one-score game this season, allowing just 34 points on their way to a 5-0 start.
Their most challenging opponent yet awaits them on Friday. Powell is back above .500 at 3-2 thanks to an impressive win, 45-27 over Clinton. The Panther defense has been a turnover machine, forcing 12 turnovers this season.
WEBB at CHRISTIAN ACADEMY OF KNOXVILLE (42-12, Final)
The high-powered CAK offense meets the stingy defense of Webb in Week 6.
The Spartans have been dominant on both sides of the football, defeating opponents by an average of over 30 points per contest en route to a 5-0 start. Webb received a first-place vote in last week's AP poll in Division II-AA.
CAK is riding high after a thrilling 65-51 win over Lakeway Christian a week ago. Warrior quarterback Aiden Troutt enjoyed a game for the ages, scoring eight touchdowns. The Senior threw five scores, ran for two more, and hauled in a touchdown pass as CAK improved to 3-2.
NORTHVIEW ACADEMY at GRAINGER (28-0, Final)
With all the surprise teams we've seen throughout East Tennessee this season, Northview Academy has flown under the radar. The Cougars enter Friday's matchup with Grainger a perfect 5-0. The Cougars have failed to win five games since 2017.
Northview is carried by their defense, holding every opponent to 21 points or less this season. Grainger is looking for one of the bigger upsets of the year thus far and will need their defense to step up. In the Grzzlies' two victories, opponents have combined to score just 18 points. In their three losses, opponents are averaging over 42 points per game.
OAK RIDGE at CLINTON (37-24, Final)
One of the biggest upsets of the year so far came a week ago as Oak Ridge fell 14-3 to McMinn County. This week, the Wildcats will be without Head Coach Derek Rang who is serving a one-game suspension for multiple sideline violations. Former Head Coach Joe Gaddis will be on the sideline as Rang serves his suspension.
Clinton started slow last week in a 45-27 loss to Powell, scoring 27 points after falling into an early 20+ point hole. Oak Ridge fell from No. 5 to No. 9 in this week's 5A poll and will need to avoid an upset to remain ranked.
WEST at HERITAGE (48-14, Final)
Heritage put together its most complete performance of the season last time out, defeating Karns 56-21, setting a new season-high for points scored.
The Mountaineers will need that momentum if they want to hang with West. The Rebels continue to dominate, picking up a 53-0 victory over Central a week ago.
The Rebels have won 20 consecutive games dating back to 2021.
Other scores to follow:
Lakeway Christian at Grace Christian (21-16, Final)
Greenville at Volunteer (56-0, Final)
Daniel Boone at Campbell County (44-21, Final)
Loudon at Sequoyah (49-0, Final)
Sweetwater at Tyner Academy (22-28, Final)
York Institute at Livingston Academy (26-7, Final)
Coalfield at Sequatchie County (14-31, Final)
Providence Christian at Kinig's Academy (20-15, Final)
Anderson County at Carter (49-0, Final)
Karns at Fulton (7-6, Final)
Maryville at Hardin Valley (48-7, Final)
Jellico at Midway (20-22, Final)
Harriman at Oakdale (10-12, Final)
Greenback at Oneida (8-29, Final)
Kingston at Rockwood (38-9, Final)
Cherokee at Seymour (33-30, Final)
Central at South-Doyle (45-35, Final)
Oliver Springs at Sunbright (45-0, Final)
Bledsoe County at Tellico Plains (42-7, Final)
Alcoa at Union County (55-0, Final)
Eagleton Academy at Wartburg (21-20, Final)
Pigeon Forge at Austin-East (14-46, Final)
Science Hill at William Blount (56-28, Final)
Johnson County at Gatlinburg-Pittman (6-49, Final)
Morristown East at Dobyns-Bennett (0-45, Final)
Chuckey-Doak at Cocke County (26-21, Final)
Hancock County at Cosby (0-12, Final)
Twin Springs (VA) at Cumberland Gap (49-8, Final)
Copyright 2023 WVLT. All rights reserved.