Pleasant sunshine and warmth this afternoon
We're staying in the 80s for the weekend with an extended dry spell ahead.
Published: Sep. 23, 2023 at 6:41 AM EDT
|
Updated: Sep. 23, 2023 at 9:20 AM EDT
KNOXVILLE, Tenn. (WVLT) - We're waking up to patches of dense fog across the area. We'll start to the see the sun as we move into the mid-morning hours.
Join us on the WVLT First Alert Weather app for iPhone or Android, so you can stay informed on the go and in between newscasts. We share custom videos, plus you can choose to get messages from us on the latest conditions and forecast.
WHAT TO EXPECT
It's a sunshine filled afternoon on this Saturday. The good news is, with the lower humidity values it's going to feel really pleasant. Temperatures in the afternoon will be in the upper 70s to near 80. In your I'm All Vol Forecast, the game starts during the heat of the day so drink water and wear sunscreen! If you are in the shade it'll feel comfortable with that lower humidity. We'll also have a good breeze out of the northeast 5 to 10 mph, occasionally gusting to 15 to 20 mph.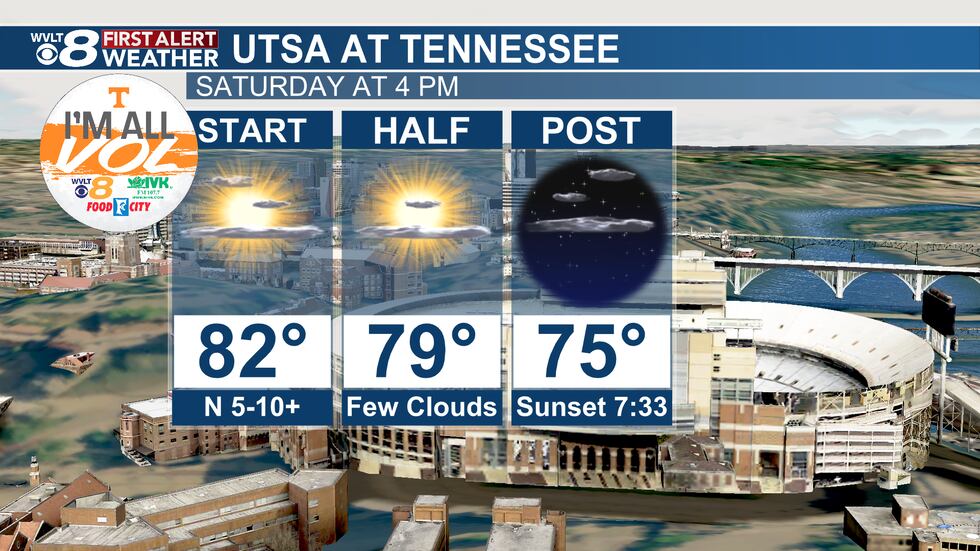 LOOKING AHEAD
Temperatures start out in the mid-50s Sunday and warm up to a high of 81 degrees.
Next week comes with more clouds and the possibility of a few showers early in the week. Highs are in the lower 80s.
In your First Alert 8-Day Planner, a cold front will start to move in by the middle and end of the week bringing a better chance for scattered downpours. That will drop highs into the mid-70s.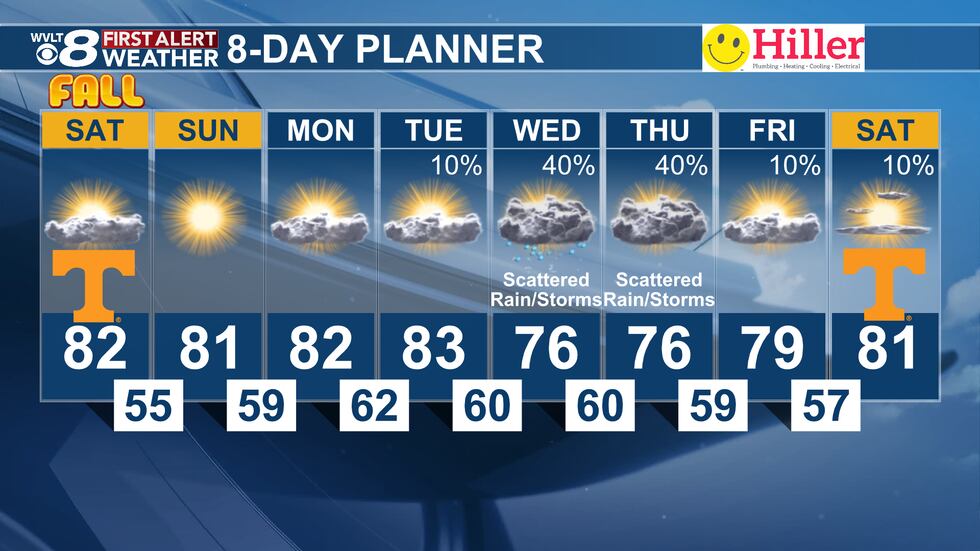 Copyright 2023 WVLT. All rights reserved.