Increasing humidity and clouds, ahead of some rain and storms
Chief Meteorologist Heather Haley tracks a midweek front.
Published: Sep. 25, 2023 at 4:52 AM EDT
|
Updated: Sep. 25, 2023 at 12:25 PM EDT
KNOXVILLE, Tenn. (WVLT) - We're slowly seeing and feeling some changes ahead of a front, with some more clouds and humidity at times, then scattered rain and storms drag through at times over a couple of days.
Join us on the WVLT First Alert Weather app for iPhone or Android, so you can stay informed on the go and in between newscasts. We share custom videos, plus you can choose to get messages from us on the latest conditions and forecast.
WHAT TO EXPECT
We have a mix of sun and clouds throughout the day, with a stray shower possible in the higher elevations. We're topping out at 82 degrees, with a light breeze out of the northeast.
Tonight comes with scattered clouds and areas of fog, and a low of 59 degrees.
LOOKING AHEAD
Tuesday looks to stay mostly sunny for part of the day, then more partly cloudy in the afternoon to evening when stray rain and storms develop in our higher elevations and become spotty in coverage Tuesday night with the increasing humidity. We'll warm to around 86 degrees on Tuesday, with a light breeze.
We'll be in the upper 70s to around 80 Wednesday and Thursday, when we see more scattered rain and storms at times. It looks to be an even 40% coverage throughout the day Wednesday, but spottier in the Valley on Thursday with more scattered rain outlining the Valley. We'll also have a little more of a breeze on Wednesday, with some gusts around 20 mph.
In your First Alert 8-Day Planner, the humidity is gradually decreasing Friday into the weekend. This takes us from spotty rain and storms Friday, to a stray mountaintop shower on Saturday. We'll have mild mornings and sunny afternoons for the weekend into early next week!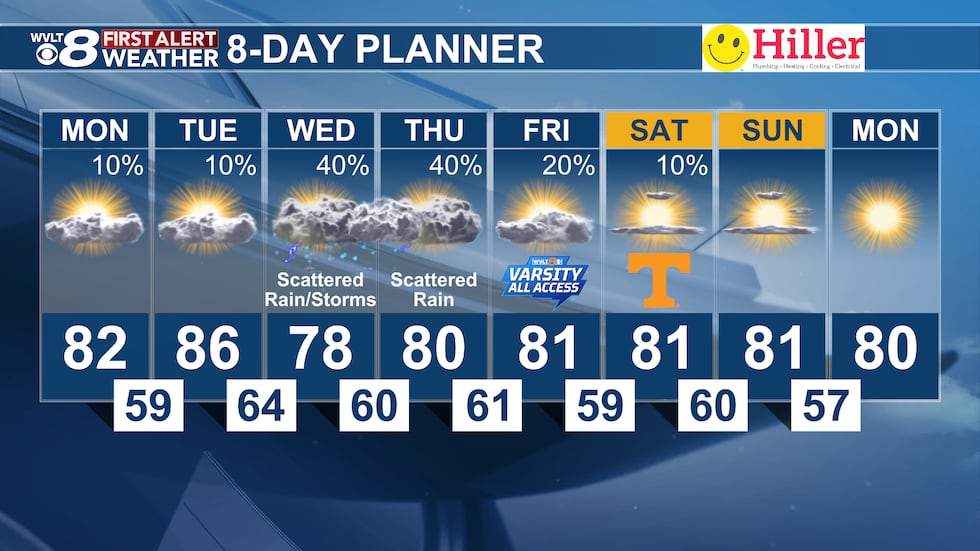 Copyright 2023 WVLT. All rights reserved.