Warming up Tuesday ahead of a cold front
Meteorologist Jacob Durham is tracking rain as a cold front moves into the region.
Published: Sep. 25, 2023 at 1:59 PM EDT
|
Updated: Sep. 25, 2023 at 10:34 PM EDT
KNOXVILLE, Tenn. (WVLT) - Temperatures are really heating up Tuesday before a cold front arrives bringing back the humid weather and more rain chances. The good news is we dry out and cool back off heading into the weekend.
Join us on the WVLT First Alert Weather app for iPhone or Android, so you can stay informed on the go and in between newscasts. We share custom videos, plus you can choose to get messages from us on the latest conditions and forecast.
WHAT TO EXPECT
We'll see a few clouds tonight with temperatures dropping to near 59 degrees by Tuesday morning.
Some clouds linger early Tuesday, but we should see more sunshine throughout the day with high warming to 86 degrees! A few clouds and stray downpours are possible Tuesday evening, mainly along the mountain tops.
LOOKING AHEAD
Highs are near 80 degrees Wednesday and Thursday with more scattered downpours and a few rumbles of thunder. The 40% coverage in rain continues on and off throughout the day Wednesday into Thursday. The rain looks to become more scattered outing the Valley on Thursday. With this cold front moving through, gusts could pick up to around 20 mph on Wednesday.
In your First Alert 8-Day Planner, the humidity is gradually decreasing Friday into the weekend. This takes us from spotty rain and storms Friday, to a stray mountaintop shower on Saturday. We'll have mild mornings and sunny afternoons for the weekend into early next week!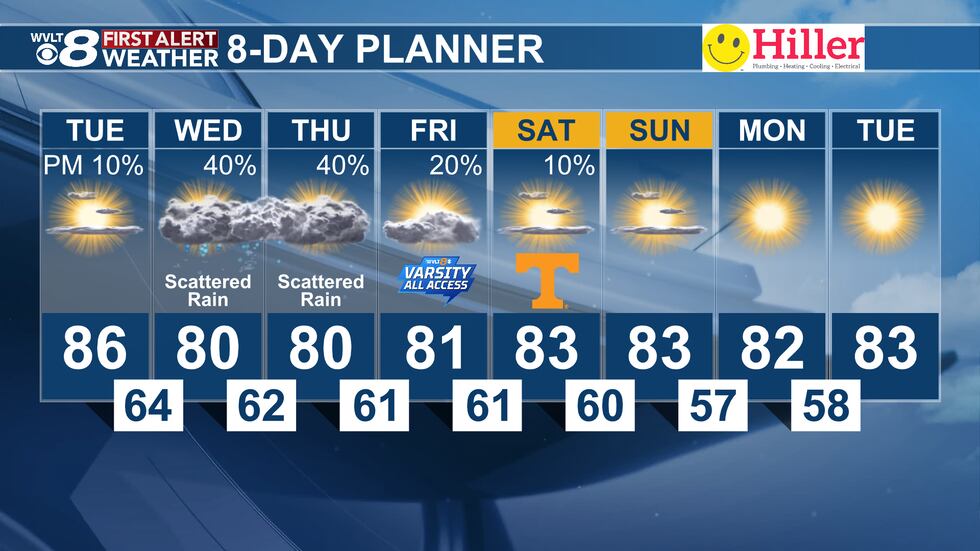 Copyright 2023 WVLT. All rights reserved.