Rain and storms moving into parts of our area today
Chief Meteorologist Heather Haley tracks today's downpours for some, and the warmer days ahead for all!
Published: Sep. 28, 2023 at 4:54 AM EDT
|
Updated: Sep. 28, 2023 at 12:29 PM EDT
KNOXVILLE, Tenn. (WVLT) - Another round of rain and storms is moving into our area today, and breaking up some as it moves southeast. This leaves us with more humidity for Friday, and while that goes down the afternoon highs go up!
Join us on the WVLT First Alert Weather app for iPhone or Android, so you can stay informed on the go and in between newscasts. We share custom videos, plus you can choose to get messages from us on the latest conditions and forecast.
WHAT TO EXPECT
A batch of rain and storms is moving in from the northwest. This starts the day with a 40% coverage on through the midday.
This looks to breakup a bit as it moves in, with spotty rain and mostly cloudy views for the afternoon to evening. The coverage and rainfall potential are both greatest from the Platea to Northeast Tennessee and Southeastern Kentucky. We top out around 82 degrees in the Valley, but even low to mid 70s in those areas with the greater rainfall. Wall have a light breeze out of the northwest.
Tonight comes with some cloud breaks, but fog fills in. We'll start Friday around 61 degrees, with spotty rain.
LOOKING AHEAD
Friday is mostly cloudy with spotty rain morning to midday, then partly cloudy with a stray shower and more sunshine as the afternoon progresses. This leaves us around 83 degrees.
This weekend is warm and sunny in the afternoon, with mild mornings! We'll start Saturday at 61, and warm to around 85, and Sunday is 60 in the morning to a high of 85.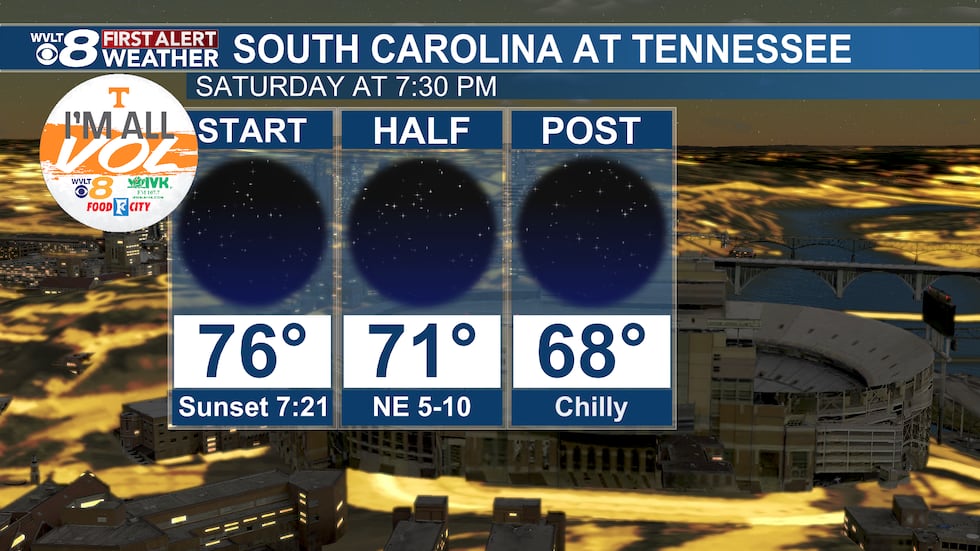 In your I'm All Vol forecast, the evening kickoff will feel great after a hot afternoon of tailgating! We'll start out cooling form the upper 70s just before kickoff, since the sunset is around 7:20, so we'll cool to the upper 60s by the end! Throw in a cool breeze out of the northeast at 5 to 10 mph.
In your First Alert 8-Day Planner, mornings are closer to normal, in the upper 50s to around 60 degrees, but afternoons continue to heat up in the sunshine to the mid 80s! As of now, we're seeing a few more clouds next Thursday, and we're keeping an eye on rain chances a little further out.
Copyright 2023 WVLT. All rights reserved.