Varsity All Access | All the scores are in for Week 7
West and Alcoa meet in a heavyweight battle this week.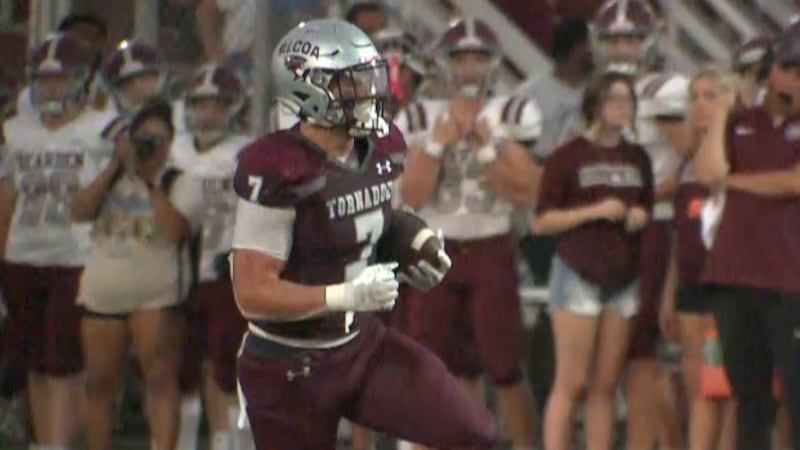 Published: Sep. 28, 2023 at 8:22 PM EDT
|
Updated: Sep. 28, 2023 at 8:23 PM EDT
KNOXVILLE, Tenn. (WVLT) - Week 7 promises to be the best slate of high school games we've seen so far this season here in East Tennessee. There are multiple games that could have been picked for the Game of the Week, but Alcoa going on the road to face West is the game that takes the cake.
GAME OF THE WEEK | ALCOA-24 at WEST-7
All year long, Alcoa and West have stood above the rest in East Tennessee. The top teams in their respective classifications finally meet to decide who will remain perfect and who will see their lengthy winning streak come to an end. After the Rebels narrowly escaped Bearden to open the season, they've been nothing short of dominant. After a slow start offensively, the Tornadoes have kicked into high gear, posting consecutive shutouts ahead of their matchup with West.
BEARDEN-20 at MARYVILLE-20
Any other week, it would most likely be our game of the week. Maryville hasn't lost multiple games at home in over a decade, while Bearden has put their talented roster together after a slow start to the season. Bearden controls its own destiny to win the 6A Region 2 championship. Maryville needs a win to stay alive in the championship race.
BRADLEY CENTRAL-28 at FARRAGUT-20
Vol fans will definitely have their eyes on this one. Tennessee commit Boo Carter takes his show on the road to face the Admirals on Friday, just a few miles away from the stadium he'll suit up to play in next season. Carter will also be in attendance when the Vols take the field on Saturday. Farragut's tough schedule has caught up with the Admirals. After a 2-0 start, the team has dropped three consecutive games and is looking to break that streak against the top-ranked team in Class 5A.
CARTER-36 at NORTHVIEW ACADEMY-19
History is on the line for the Cougars on Friday. Northview Academy has never started a season 7-0 and can tie the school record for single-season wins with a victory over the Hornets this week. While Carter has struggled this season, they have had a flare for the upset, taking down Gatlinburg-Pittman earlier this year.
OAK RIDGE-42 at CENTRAL-21
Oak Ridge's De'Jauvis Dozier put together one of the best performances of the season last week against Clinton. The Wildcat senior rushed 41 times for over 200 yards to help Oak Ridge move to 4-1 overall. Central is off to a 4-2 start but is still looking for its first win against a team with a record above .500.
Catch these five games and many more on this week's Varsity All Access report on WVLT beginning at 11:00.
Want your video to be featured on our show? Tag 5 Star Preps and Varsity All Access on Twitter for a chance to see your video on our airwaves!
Lakeway Christian-27 Silverdale Academy-13
Catholic-12 MBA-17
Austin-East-40 Grace Christian-47
Brainerd-0 Webb-38
King's Academy-7 Ezell-Harding-11
Fulton-44 South-Doyle-36
Gibbs-56 Campbell County-28
Sweetwater-23 Chattanooga Central-34
Powell-55 Karns-10
Morristown East-19 Lenoir City-29
Cumberland County-17 White County-41
CAK-8 Chattanooga Christian-43
Tellico Plains-20 Harriman-46
Loudon-14 Kingston-17
Heritage-28 Halls-38
Midway-0 Oliver Springs-54
York Institute-28 Oneida-0
Wartburg-7 Polk County-21
Greenback-20 Rockwood-35
Oakdale-16 Coalfield-42
Pigeon Forge-20 Johnson County-22
Hardin Valley-14 Sevier County-19
Seymour-25 South Greene-35
Gatlinburg-Pittman-46 Unicoi County-0
Cumberland Gap-22 West Greene-49
Union County-0 William Blount-56
Grainger-14 Cherokee-37
Chuckey-Doak-27 Claiborne County-6
Daniel Boone-35 Cocke County-0
Hampton-51 Eagleton Academy-13
Morristown West-26 Jefferson County-27
Cosby-7 Jellico-42
Whitley County (KY)-63 Scott-14
Elizabethton-14 Dobyns-Bennett-7
Copyright 2023 WVLT. All rights reserved.