A warm and dry weekend
We've got a dry weekend ahead with no real big changes for most of the week ahead.
Published: Sep. 30, 2023 at 6:02 AM EDT
|
Updated: Sep. 30, 2023 at 8:05 AM EDT
KNOXVILLE, Tenn. (WVLT) - We're waking up on Saturday to some areas of dense fog. It's also a bit chilly for some, so you may want a light jacket if you are moving early.
Join us on the WVLT First Alert Weather app for iPhone or Android, so you can stay informed on the go and in between newscasts. We share custom videos, plus you can choose to get messages from us on the latest conditions and forecast.
WHAT TO EXPECT
The story of the weekend is sunshine and it all starts on Saturday. While we'll have a chilly start, we'll finish with warm sunshine as we move toward sunset. It should be a pleasant day all the way around with low humidity levels. We'll get a high near 85.
In your I'm All Vol forecast, the evening kickoff will feel great after a hot afternoon of tailgating! We'll start out cooling from the upper 70s just before kickoff since the sunset is around 7:20, so we'll cool to the upper 60s by the end! Throw in a cool breeze from the northeast at 5 to 10 mph.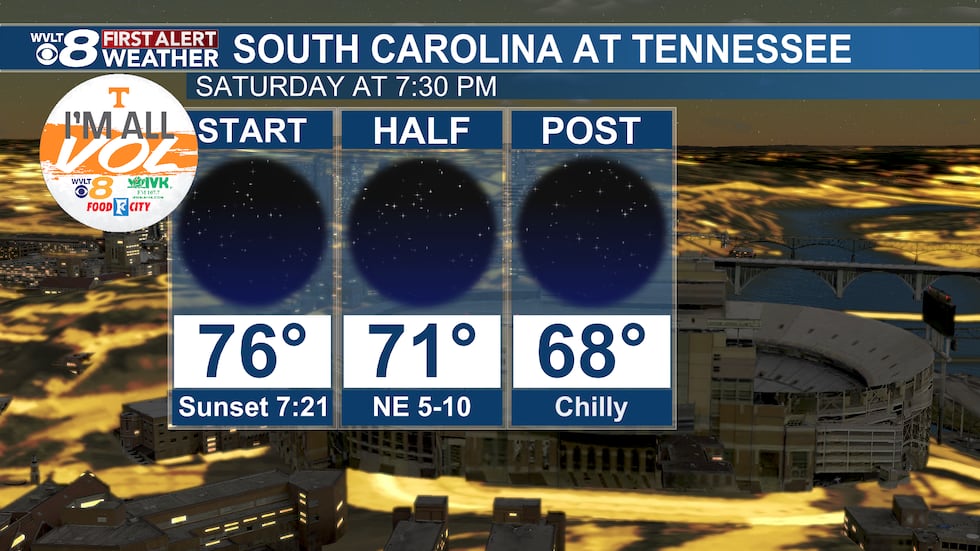 LOOKING AHEAD
Sunday really is a repeat of Saturday. We'll start off with areas of fog, a generally clear sky and temperatures starting in the upper 50s to near 60.
Sunday afternoon we'll have high temperatures reach the mid 80s again with lots of sunshine.
Our next big weather maker comes Friday with some areas of rain and cooling down into the 70s for Friday and next weekend.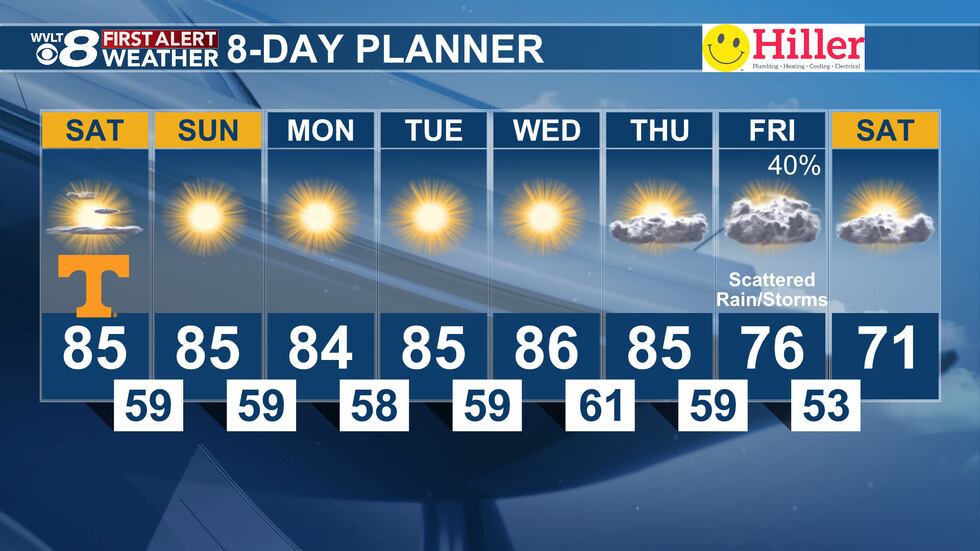 Copyright 2023 WVLT. All rights reserved.