Vols take revenge over South Carolina, 41-20
Tennessee riding an 11 game win streak at Neyland Stadium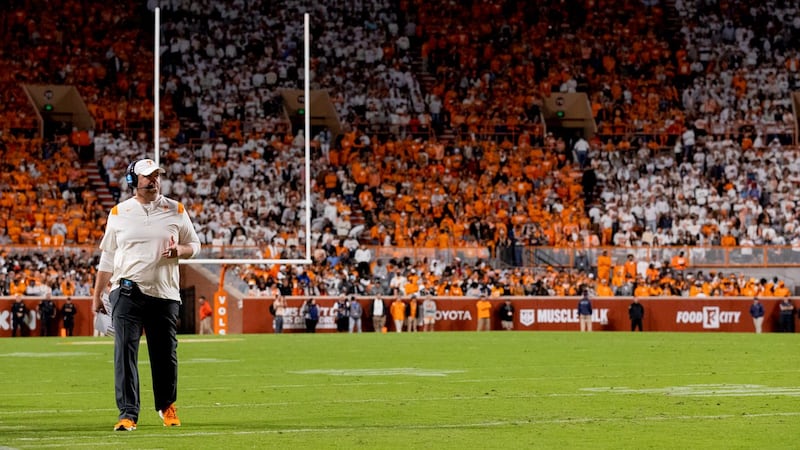 Published: Sep. 30, 2023 at 7:17 PM EDT
|
Updated: Sep. 30, 2023 at 11:29 PM EDT
KNOXVILLE, Tenn. (WVLT) - No. 21 Tennessee hosts South Carolina inside a sold-out Neyland Stadium for its SEC home opener.
The Vols will be looking to secure their first conference win of the season and extend their winning streak at Neyland Stadium to 12 games after a 45-14 victory over UTSA last Saturday.
Tennessee fans understand the importance of this one as the Vols look to avoid a second early season SEC loss and they showed out in force at the traditional Vol Walk before the game.
The Vols carry an 11-game home win streak into Saturday's contest, their longest such streak since winning 23 straight at Neyland from 1996-2000.
UT's current home win streak is the fourth longest in the country behind Georgia (22), Michigan (19) and Utah (17). Tennessee is 14-3 overall at home under head coach Josh Heupel, outscoring its opponents 783-353.
The game is also the ninth consecutive sellout at Neyland Stadium dating back to Sept. 17 last season.
1ST QUARTER
Vols strike first! Efficient offense mixing pass and run. Drive covers 94 yards in 9 plays capped off by a 42 yard Jaylen Wright TD run. PAT is good as Tennessee jumps out front against S. Carolina, 7-0!
Joe Milton throws his 2nd pic of the season. DQ Smith returns it 16 yards to Vol 29. Spencer Rattler continues to hurt Tennessee capping a short S. Carolina drive with as 6 yard TD run. Gamecocks lead 10-7 late in the 1st quarter.
But the Vols answer right back! First a 21 yard run by Jabari Small. Then a 50 yard Milton to Squirrel White pass. A terrific catch by the sophomore with a defender draped all over him. Small then takes it in from 2 yards out. Vols regain the lead, 14-10 with :42 remaining the opening quarter.
2ND QUARTER
After a successful fake punt, the Vols stop SC on 4th and 2 at the UT (32). Dylan Sampson runs 37 yards into Gamecock territory. Charles Campbell caps off the drive with a 24 yard FG. 17-10 Vols with 8:50 remaining in the half.
Following consecutive punts by the offense, the Tennessee defense comes up big at a time when spirits were low on the UT sideline. Facing a 3rd and 17, Gamecock quarterback Spencer Rattler is pressured, throws the ball high and is intercepted by Kamal Hadden. The Red shirt senior returns it 28 yards for the touchdown. Tennessee's first pick 6 of the season. Vols extend their lead to 24-10. End of the first half.
3RD QUARTER
Vols take opening drive and march 80 yards in 5 plays capped off by a 6yd. Milton to Jacob Warren TD pass in the end zone. Tennessee extends its lead over the Gamecocks to 31-10.
Gamecocks hit back and quickly as Mario Anderson takes the handoff from Rattler runs right thru the middle and 75 yards for a S. Carolina TD. Vols lead cut to 31-17.
Vol defense comes up big once again! For the second time in the game, Tennessee comes up with a 4th down stop. Rattler's sneak at the UT 35 comes up short. Gamecocks turn the ball over on downs.
4TH QUARTER
End of the 3rd quarter and Vols driving at the SC 22. UT defense was able to force Gamecocks in to a 3-n-out deep in their own territory. A Dee Williams punt return for a TD was negated by a block in the back penalty, 31-17 Vols to start the 4th.
Charles Campbell secures a 33-yard field goal to strengthen the Vols lead, 34-17.
The Gamecocks continue to make progress when Rattley runs for 11 yards. James Pearce Jr. gets yet another sack on Rattler for a loss of seven yards.
Rattler immediately answers with a 13-yard pass to O'Mega Blake.
Tennessee takes its second timeout with 10:50 left in the game.
Just when it looked like Tamarion McDonald secured an interception, Rattler's throw to Trey Knox was complete with a 20-yard gain.
Rattler is sacked again, this time by Kurott Garland for a loss of only one yard. The team takes it back up at the Tennessee 37-yard line.
Mitch Jeter secures a 47-yard field goal, bringing the score to 34-20 Tennessee.
Tennessee takes over at its 25-yard line when Milton throws an explosive pass to Ramel Keyton for 19 yards. The Vols make steady progress with Milton throwing another pass for 8 yards then Sampson running for 11 yards.
Chas Nimrodd catches Milton's next pass for a gain of 10 yards as Tennessee nears closer to the endzone at South Carolina's 25-yard line.
Sampson continues his running game for six yards for a Tennessee touchdown. The score is now 41-20 with 4:09 left in the game.
Copyright 2023 WVLT. All rights reserved.