Staying hot Tuesday but tracking a cool down later this week
Meteorologist Jacob Durham is tracking a cold front later this week bringing rain and a cool down.
Published: Oct. 2, 2023 at 2:15 PM EDT
|
Updated: Oct. 2, 2023 at 10:26 PM EDT
KNOXVILLE, Tenn. (WVLT) - Temperatures are staying well above average for the next few days with lots of sunshine. A cold front moves in later in the week bringing some rain and a big cool down by the weekend.
Join us on the WVLT First Alert Weather app for iPhone or Android, so you can stay informed on the go and in between newscasts. We share custom videos, plus you can choose to get messages from us on the latest conditions and forecast.
WHAT TO EXPECT
The clear skies continue tonight with temperatures dropping to near 58 degrees by Tuesday morning. Some patchy fog is possible as well.
After a cool morning, we heat up quickly to 87 degrees by Tuesday afternoon! Our average high is around 77 degrees, so that is 10 degrees above average!
LOOKING AHEAD
Highs remain in the mid-80s on Wednesday and Thursday. Wednesday is all sunshine but Thursday comes with more clouds as a cold front slowly moves into the region.
A cold front moves in Friday afternoon to evening bringing us some rain. Right now, it only looks like a 40% coverage meaning not all of us get rain.
In your First Alert 8-Day Planner, from one extreme to the other, this front brings us below average! We're looking at highs in the upper 60s to low 70s this weekend into next week, with some upper 40s to low 50s in the mornings.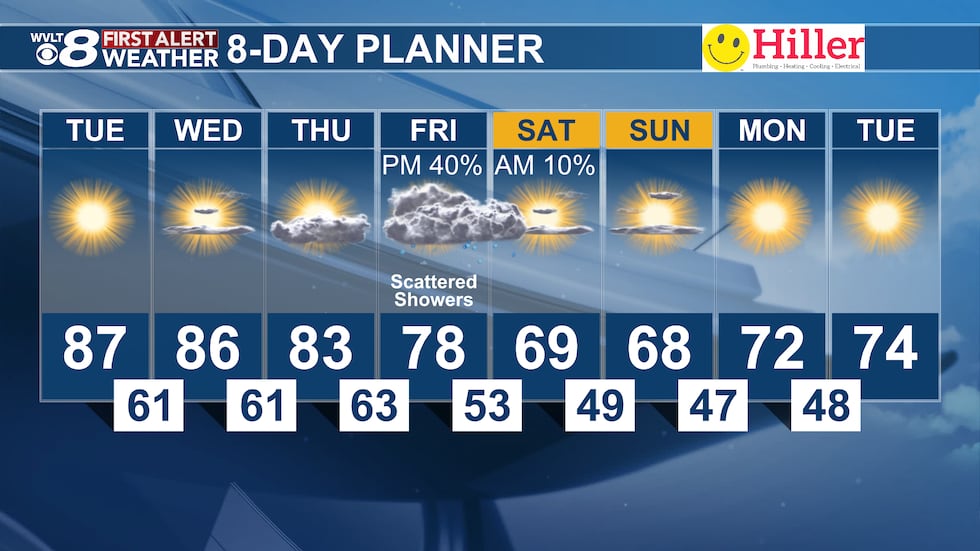 Copyright 2023 WVLT. All rights reserved.