Warm afternoons for now, fall front on the way
Chief Meteorologist Heather Haley tracks rain for some to end the week, with a big cool-down behind it.
Published: Oct. 2, 2023 at 4:43 AM EDT
|
Updated: Oct. 2, 2023 at 12:27 PM EDT
KNOXVILLE, Tenn. (WVLT) - Mornings are closer to normal, but the afternoons are warming most of the week! We are tracking a cold front to move in with some rain to end the week, but we will all feel a big cool-down behind it.
Join us on the WVLT First Alert Weather app for iPhone or Android, so you can stay informed on the go and in between newscasts. We share custom videos, plus you can choose to get messages from us on the latest conditions and forecast.
WHAT TO EXPECT
We are heating up to around 85 degrees in Knoxville, but the average high for this time of the year is 77 degrees. It's a beautiful, sunny day, with a light cool breeze out of the north. If you can stick to the shade it helps, but that sunshine always makes it feel hotter.
Tonight is clear, with patchy fog again, and a mild low of 58 degrees.
LOOKING AHEAD
Tuesday is another layer day, but it's heating up a little more to 87 degrees!
The humidity levels are mild and the sky is clear through Wednesday, then clouds slowly increase Thursday.
We'll see spotty to scattered rain and storms around our area Friday to Friday night, as the front passes through. While we all need the rain, we're monitoring the coverage of our area.
In your First Alert 8-Day Planner, from one extreme to the other, this front brings us below average! We're looking at highs in the upper 60s to low 70s this weekend into next week, with some upper 40s to low 50s in the mornings.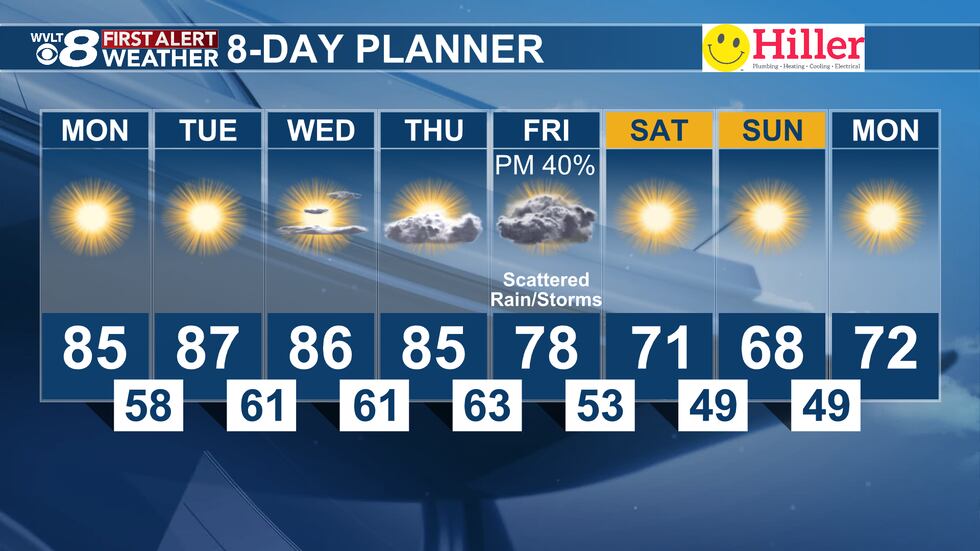 Copyright 2023 WVLT. All rights reserved.