Warm, sunny afternoons for now, some rain to a cool-down ahead
Chief Meteorologist Heather Haley tracks the cold front that will take us from above average to below average temperatures.
Published: Oct. 3, 2023 at 4:58 AM EDT
|
Updated: Oct. 3, 2023 at 12:30 PM EDT
KNOXVILLE, Tenn. (WVLT) - Afternoon temperatures continue to crank up to well above average, but a cold front will bring some rain and then a big cool down.
Join us on the WVLT First Alert Weather app for iPhone or Android, so you can stay informed on the go and in between newscasts. We share custom videos, plus you can choose to get messages from us on the latest conditions and forecast.
WHAT TO EXPECT
Temperatures climb quickly, to top out about 10 degrees above average at 87 degrees. At least in the shade you can find some relief, thanks to a light, cool breeze and low humidity.
Tonight will stay mostly clear, with patches of fog developing. The low will drop to around 59 degrees.
LOOKING AHEAD
Highs remain in the mid-80s on Wednesday and Thursday. Wednesday is mostly sunny, then we'll see some more clouds starting to increasing Thursday afternoon.
A cold front moves in Friday afternoon to evening, with spotty to scattered rain and storms. It looks to bring about a 40% coverage to our area into the early night hours, then spotty by morning.
In your First Alert 8-Day Planner, we're going from well above average to below average! We're looking at highs in the upper 60s to low 70s this weekend into next week, with some upper 40s in the mornings.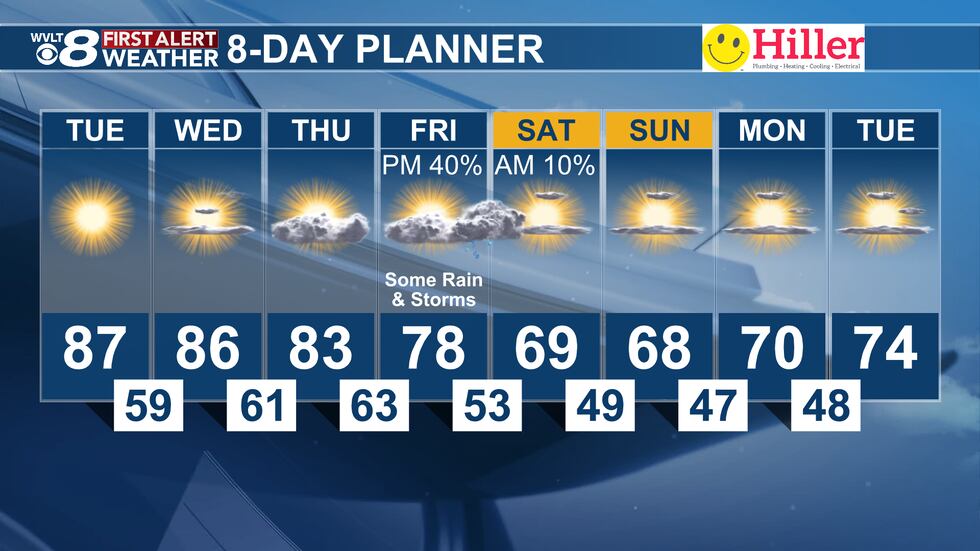 Copyright 2023 WVLT. All rights reserved.