Varsity All Access | Week 10 Games to Watch
Maryville-Alcoa rivalry renewed to highlight Friday night slate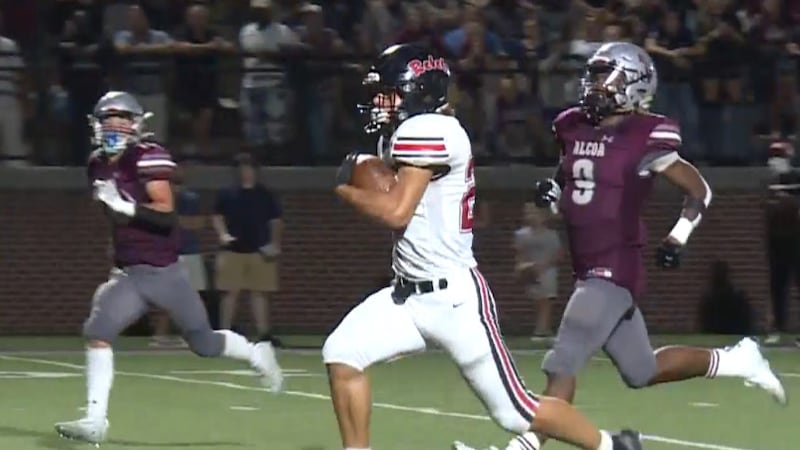 Published: Oct. 20, 2023 at 5:00 PM EDT
|
Updated: Oct. 21, 2023 at 12:23 AM EDT
KNOXVILLE, Tenn. (WVLT) - As we enter the penultimate week of the high school football regular season, one of the state's greatest rivalries sees another chapter published with Alcoa taking on Maryville. Check out the five matchups you need to keep an eye on in week 10.
MARYVILLE at ALCOA | GAME OF THE WEEK (24-21)
Right when it looked like Maryville's postseason hopes were on life support, the Rebels put together an impressive 34-7 performance against Cleveland to move to 2-2 in Region play.
They took down Alcoa in a close game, 24-21, ending Alcoa's hopes of an unbeaten season.
MORRISTOWN-WEST at BEARDEN (14-24)
Bearden is arguably the hottest team in East Tennessee. The Bulldogs have won eight in a row but have allowed 20 or more points in all three of their previous matchups.
WEBB at BOYD-BUCHANAN (10-14)
Both teams entered the matchup tied for 3rd in the Division II-AA polls. The winner, Boyd-Buchanan took sole possession of the third spot and may enter the top two with a victory.
GIBBS at ANDERSON COUNTY (6-55)
The star-studded list of matchups continues with a pivotal region dual. The winner of Gibbs-Anderson County will lock up at least a share of the region title.
The Eagles have won six consecutive games but was handed their first loss away from home, falling to Anderson County 6-55.
HALLS at WEST (9-20)
West defeated Halls 9-20.
Halls needed to win to keep their region championship hopes alive.
McMINN COUNTY at POWELL (14-28)
McCALLIE at CATHOLIC (31-27)
Other Games to Watch
NOTRE DAME AT CAK (49-50)
LIVINGSTON AT CUMBERLAND (19-0)
WILLIAM BLOUNT AT SODDY DAISY (55-14)
LENOIR CITY AT OAK RIDGE (12-30)
SIGNAL MOUNTAIN AT LOUDON (14-35)
KARNS AT CLINTON (18-48)
YORK INSTITUTE AT WARTBURG (40-7)
AUSTIN-EAST AT UNION COUNTY (58-30)
SOUTH-DOYLE AT SEYMOUR (26-14)
KING'S ACADEMY AT ONEIDA (15-29)
ROCKWOOD AT OAKDALE (29-24)
GATLINBURG-PITTMAN AT PIGEON FORGE (49-0)
EAST HAMILTON AT SEVIER COUNTY (7-28)
FULTON AT CARTER (24-48)
OLIVER SPRINGS AT COALFIELD (13-20)
SUNBRIGHT AT GREENBACK (14-46)
FARRAGUT AT HARDIN VALLEY (27-3)
MIDWAY AT HARRIMAN (21-32)
GREENEVILLE AT NORTHVIEW ACADEMY (31-0)
JACKSON COUNTY, KENTUCKY AT JELLICO (7-31)
CAMPBELL COUNTY AT MORRISTOWN EAST (41-31)
SOUTH GREENE AT GRAINGER (34-13)
CLAIBORNE COUNTY - CUMBERLAND GAP (55-13)
COSBY AT EAGLETON ACADEMY (0-43)
JEFFERSON COUNTY AT COCKE COUNTY (56-0)
SCOTT COUNTY AT PICKETT COUNTY (46-0)
HANCOCK COUNTY AT TWIN SPRINGS, VIRGINIA (14-47)
GRACE CHRISTIAN AT SILVERDALE ACADEMY (35-42)
Copyright 2023 WVLT. All rights reserved.