Knoxville drops Hockey Top home opener to Birmingham
Bulls blank the Ice Bears 5-0 at the Civic Coliseum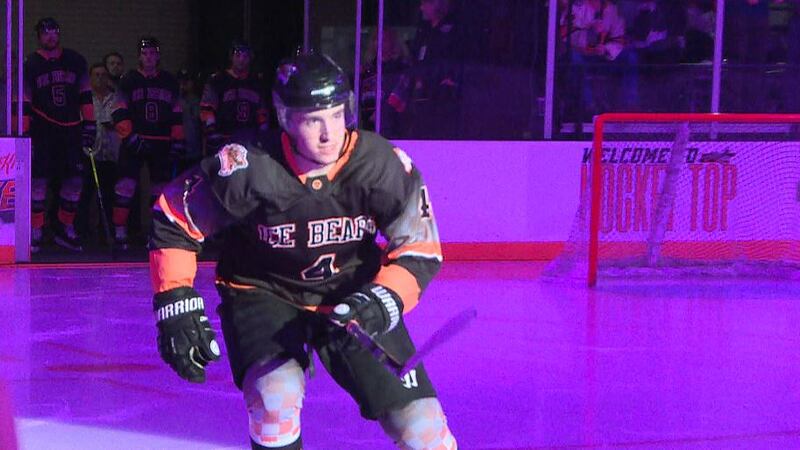 Published: Oct. 28, 2023 at 12:08 AM EDT
KNOXVILLE, Tenn. (WVLT) - The Ice Bears dropped the puck Friday night on their 22nd season in Knoxville and did so with a bang, at least pregame.
UT head baseball coach Tony Vitello and a handful of his players took turns dropping the ceremonial first puck. Also, The Voice contestant and Knoxville native Emily Ann Roberts sang our National Anthem.
However, and in front of a packed house at the Knoxville Civic Coliseum, the game would not go the way of the Ice Bears.
Hayden Stewart made 18 saves for his first shutout of the year. Kishaun Gervais scored twice as Bears fell to the Birmingham Bulls 5-0.
Drake Glover beat Kristian Stead with a one-timer from the high slot after Dylan Johnson found him from the left circle at 5:49 of the first. Gervais added to the lead with a shorthanded goal before the end of the first period.
Gervais scored his second of the night from behind the end line on the left side by banking the puck in off Stead's right side at 10:12 of the second. Matt Wiesner scored off a rebound to make it 4-0 and end Stead's night with 21 saves. He was replaced by Zane Steeves at 15:23 of the second.
Dylan Johnson found a loose puck in front of the crease on the power play late in the third to cap off the scoring. Steeves finished with 14 saves. Stead made 21 stops.
The two teams will head back to Pelham for the back end of a home and home Saturday night to close out the weekend. The Ice Bears return to home Ice Friday night November 3rd.
Copyright 2023 WVLT. All rights reserved.