LIVE THREAD: Vols dominate UConn 59-3
(6-2) Tennessee steps out of conference to play the (1-7) Huskies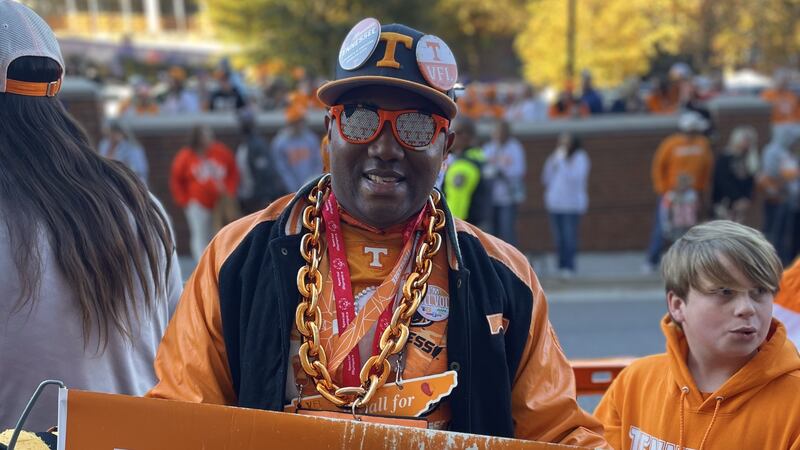 Published: Nov. 4, 2023 at 10:55 AM EDT
|
Updated: Nov. 4, 2023 at 3:54 PM EDT
KNOXVILLE, Tenn. (WVLT) - After back-to-back conference road games, No. 17 Tennessee is back home this afternoon against Connecticut in the program's 99th Homecoming game.
The Vols have won 13 straight home games entering Saturday's contest, a streak that dates back to Nov. 20, 2021.
It's the team's longest home winning streak since reeling off 23 straight wins from 1996-2000. It's also currently the third longest home win streak in the country behind only Georgia (23) and Michigan (20).
Kickoff is at Noon on the SEC Network. Be sure to catch all our postgame coverage following SEC doubleheader action on WVLT and CBS.
1ST QUARTER
Well that didn't take long! Just like last week, it's Jaylen Wright off to the races. Today it comes on the 2nd play from scrimmage as the junior races away from the Huskies defense for an 82 yard TD run. PAT is good. Vols lead 7-0 just seconds into this Homecoming game. Wright's TD run is the 9th longest in the UT Football history and Jaylen's 2nd longest after reeling off an 83 yarder last year at Vandy.
An unusual drive nets UConn 3 points. Huskies aided by a 34 yard gain on a double-pass, two Tennessee personal foul penalties and an offsides call, but the Vols hold tough near the goal line forcing a 22 yd. Noe Ruelas FG. 7-3 with 2:47 left in the 1st quarter.
Vols strike back! For the 3rd straight week Joe Milton hits on the deep pass connecting with a wide open Ramel Keyton on a 60 yard pass play. Vols extend their lead to 14-3 late in the 1st quarter.
That's the end of the 1st quarter with the Vols leading 14-3. Milton is 5-7 for 94 yards and a TD. Jaylen Wright has rushed 4 times for 95 yards and a score. Vols with 189 total yards to UConn's 97.
2ND QUARTER
Tennessee's 8-play 62 yard drive included a 22 yd. pass to Dont'e Thornton, a 15 yd. pass to TE-McCallan Castles and a 6 yd. Joe Milton TD run. Vols lead 21-3 midway thru the 3rd. Jaylen Wright now has 113 yards rushing. 6th game this season with at least 100+ yards.
ANOTHER BIG PLAY! Milton on a rope hits Squirrel White across the middle and White leaves everybody behind. The TD play covers 83 yards as Tennessee increases its lead over the Huskies to 28-3 with 4:34 remaining in the half.
SCOOP AND SCORE! Gabe Jeudy-Lally strips the UConn reciver of the ball and Tyler Baron scoops it and runs 28 yards for the defensive touchdown. Vols extend lead to 35-3 with 3:30 remaining in the 1st half.
3RD QUARTER
First a scoop and score, now a Pick-6 by the defense. No Huddle-Shotgun UConn QB Ta'Quan Roberson is hurried by Kurott Garland. Jaylen McCollough steps in front of the pass and returns it 30 yards for the Touchdown. 42-3 Vols early in the 3rd quarter.
Vols get a third defensive touchdown and their 2nd straight Pick-6 as Aaron Beasley intercepts Roberson and returns it 39 yards for a touchdown. Vols extend lead over Huskies to 49-3 with 11:51 remaining in the 3rd quarter.
UT offense finally gets a chance in the second half and so does Nico Iamaleava at the QB position. First three UConn possessions in the 2nd half. Pick-6, Pick-6 and Punt!
And Nico delivers! The young man shows poise scrambling on 3rd down for 25 yards, then he completes two passes to TE-McCallan Castles, the 2nd is for a TD covering 19 yards. Vols now up 56-3 with 7:30 remaining in the 3rd quarter.
With several new players in the Tennessee defense keeps UConn out of the end zone with a 4th down pass falling incomplete. Nico and the Vols have the ball to start the 4th quarter.
4TH QUARTER
Gaston Moore getting a chance at quarterback as Tennessee begins its 2nd drive of the 4th quarter from its own 40-yard line. Moore completes a 19-yard pass to TE-Ethan Davis.
Drive stalls as Josh Turbyville boots through a 33-yard field goal giving Tennessee a 59-3 lead with 8:02 remaining in the 4th quarter.
Vols held the Huskies scoreless for the rest of the 4th quarter, coming away with the 59-3 win.
Copyright 2023 WVLT. All rights reserved.