Greater Knoxville Sports Hall of Famer Carl Torbush dies at 72
Carl Torbush coached at multiple SEC schools as well as some high schools in East Tennessee.
Published: Nov. 6, 2023 at 8:32 PM EST
|
Updated: Nov. 6, 2023 at 8:33 PM EST
KNOXVILLE, Tenn. (WVLT) - Former East Tennessee State University Head Coach Carl Torbush died Monday, according to officials with the university.
He walked on to play for the University of Tennessee for one season before transferring to play at Carson-Newman University where he was also the assistant head coach and linebacker coach for three seasons.
While a player at Carson-Newman, he played football and baseball, earning the NAIA All-American first-team honors for both.
His career as a player put him in the Carson-Newman and Greater Knoxville Sports Halls of Fame.
"Coach Torbush was a classy guy. I knew him a long time being from Jefferson City. He actually did his student teaching for my dad at the old Jefferson High School. There wasn't a time that I saw Coach that he didn't talk about how my dad swung the meanest paddle he'd ever seen. Coach was one of those guys that loved people and obviously was a great football coach that did it for a long time at a high level. It's a sad day because of the great impact that he had on so many people. It was a life well lived for sure."
After graduating, he played minor league baseball for the Kansas City Royals for a season.
He then started his coaching career at Carter High School. A year later, he joined the staff at Baylor as a graduate assistant.
He worked with many notable programs as a defensive coordinator at six FBS programs including Alabama, Mississippi, Mississippi State, Kansas, Texas A&M and the University of North Carolina.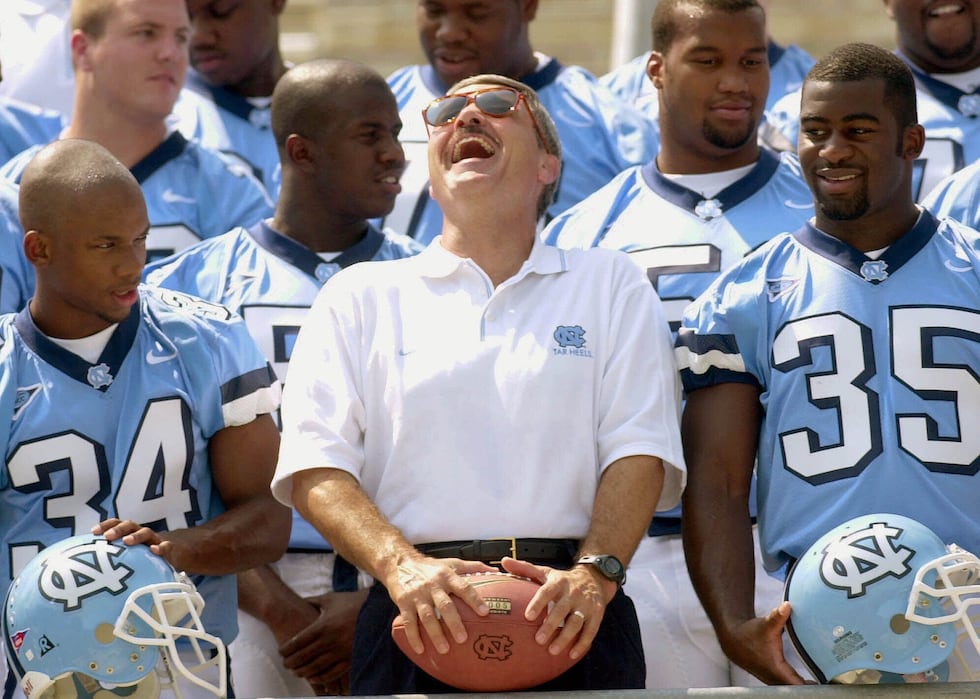 While at UNC, he was named National Defensive Coordinator of the Year in 1996 before being promoted to head coach.
"As head coach of the Tar Heels, Torbush guided UNC to a pair of bowl wins, capturing the 1997 Gator Bowl and the 1998 Las Vegas Bowl," ETSU officials said. "In total, Torbush has been a part of 11 teams that have made bowl appearances."
While at Alabama, Torbush led the defense of the Crimson Tide to become the No. 3 final national ranking in total defense and was named SEC Assistant Coach of the Year.
During his final year at Mississippi, he led them in the SEC in total defense.
"I believe Carl Torbush is the right coach at the right time to bring ETSU football back. I also believe he will be competing for Southern Conference championships very soon. Carl brings a wealth of experience and unlimited energy to the challenges ahead. He has had success at all levels of football, and he understands recruiting student-athletes that make their academics important. He will be a great mentor as these young men grow from adolescence into manhood. Carl knows how to build character and leadership on his team and staff, and he knows how to communicate with the administration and faculty. He will work at making football relevant and important to the ETSU family."
Copyright 2023 WVLT. All rights reserved.