Lady Vols surge to a season-opening victory
LVFL Bridgette Gordon returned to Rocky Top in her head coach debut with Florida A&M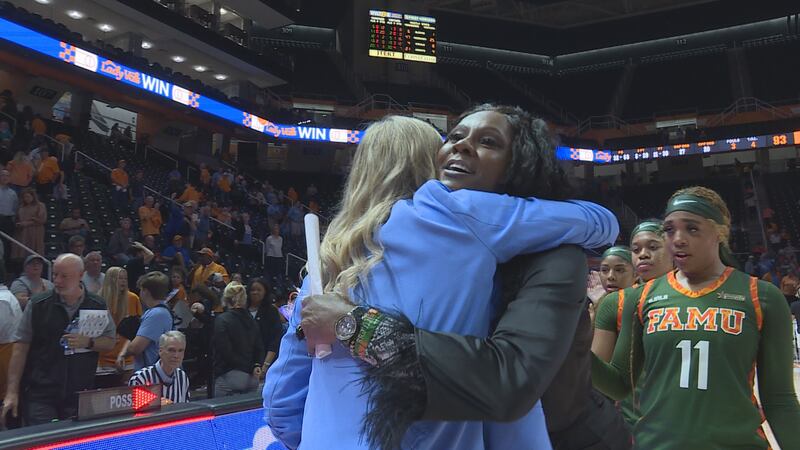 Published: Nov. 7, 2023 at 11:21 PM EST
KNOXVILLE, Tenn. (WVLT) - Kellie Harper's fifth season at the helm of Lady Vols basketball officially began Tuesday night. The program hosted Florida A&M for game one of the 2023-24 season.
The match-up was a full circle moment for Lady Vol legend Bridgette Gordon, who returned to Rocky Top in her debut as Florida A&M's head coach. An introduction she hopes made her former coach Pat Summitt proud.
"I'm a part of her legacy. And being back I didn't know how I was going to react walking past the chair that I know she sat in for so many years. Got pretty emotional today. Just wanted to make sure I made Pat proud with the product I put on the court that she'd be happy for and I think she would," said Gordon.
For the Lady Vols, their 93-64 victory marks their 24th straight home opener win. A part of that was a 20-point night from transfer Jewel Spear in her debut as a Lady Vol.
Which was the second-highest total by a transfer in their debut.
"Thought my teammates were looking for me. Whether it was Rickea [Jackson] getting doubled or Karol on the X out pass, Kaiya [Wynn] making the extra pass. I just think me making those shots was a credit to my teammates," said Spear.
Tennessee outrebounded FAMU 47 to 25 and four Lady Vols finished in double-digit scoring. Also checking in for her first regular season game since Dec. 4, of 2022 was Tamari Key. In seven minutes of action, she accounted for 3 points.
Coach Kellie Harper said, "It's not exhibition games anymore, it's real. And those things matter. I thought she did a good job while she was out there."
The 11th-ranked Lady Vols are 1-0 on the season and now turn their attention to Florida State who they'll face Thursday.
Copyright 2023 WVLT. All rights reserved.