Josh Heupel and Vols look to bounce back against Georgia on Rocky Top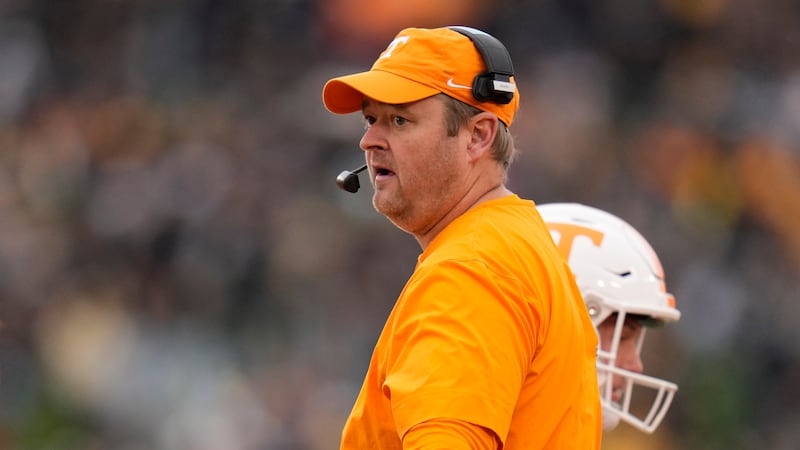 Published: Nov. 13, 2023 at 10:18 PM EST
|
Updated: Nov. 13, 2023 at 11:25 PM EST
KNOXVILLE, Tenn. (WVLT) - Tennessee turns its attention to Saturday as the Vols prepare for a contest against the top-ranked Georgia Bulldogs. This high-profile match-up follows the worst loss in the Heupel era where UT fell to Missouri 36-7.
Heupel said, "I think no matter what you do the previous week, you have to put the game behind you. Certainly, we understand the quality of the opponent that is coming to town this week. Our guys understand who they are, what they are about and the way they are going to play. It will be a great test for us."
The Vols were held to under 100 yards rushing for the first time this season, and the defense gave up 530 yards to the Tigers. Before this game, the Vols hadn't given up more than 444 yards, which came the week before against the Kentucky Wildcats.
Heupel said the team didn't play assignment-sound and allowed quarterback Brady Cook and running back Cody Schrader to run all over the field.
"You've got to do a good job of applying pressure to him, too. You can't let him sit back there all day. But he broke contain on us. That was disappointing, " Heupel said referring to Schrader. "He got through the middle of the football field once or twice, too. We've got to do a better job, that'll be huge in this one, too. And we've got to match things out on scramble drill."
Tennessee had a moment of great success against the Tigers when Joe Milton went deep to Dont'e Thornton. It was his only catch of the day, which resulted in Tennessee's lone score. The play also ended with a lower-body injury to Thornton, sidelining the receiver for the rest of the regular season.
With two wide receivers now out for the season, all eyes are on the receiving core and how they adjust to the team's game plan for Georgia.
The Bulldogs are 15th in the country in fewest passing yards allowed, averaging 181 yards per game.
"You're always going to change your scheme based on what you see structure-wise, personnel-wise, what you see on the other side. You always try to put your guys in positions where they could go win. You know, in this one, there's going to be a bunch of one-on-ones. It's going to be tightly contested coverage on the outside. At the end of the day, they're going to have to go win some of those battles," said Heupel.
It's the Vols and the Bulldogs inside Neyland Stadium at 3:30 p.m. And if you can't make it to the game, you can catch it on WVLT.
Copyright 2023 WVLT. All rights reserved.