More clouds today, but still warm ahead of our next cold front
Chief Meteorologist Heather Haley tracks more rain to end the week, and a second cold front just a few days later.
Published: Nov. 15, 2023 at 5:07 AM EST
|
Updated: Nov. 15, 2023 at 12:30 PM EST
KNOXVILLE, Tenn. (WVLT) - We are tracking more clouds today, but we are still on the warm side before a cold front moves in to end the week. It's been awhile since we've had fronts close together, and we really need this rain, with a second front to start Thanksgiving week.
Join us on the WVLT First Alert Weather app for iPhone or Android, so you can stay informed on the go and in between newscasts. We share custom videos, plus you can choose to get messages from us on the latest conditions and forecast.
WHAT TO EXPECT
It's a mostly cloudy day, but occasionally partly cloudy with more sunshine at the Tennessee, Kentucky line. That's because this system is churning rain across Georgia and pushing these extra clouds across our area at times. Temperatures are still above average, with a high of 67 degrees, and a light breeze out of the north.
Tonight will be partly cloudy, with a low of 43 degrees, which is still just above average.
LOOKING AHEAD
You may want to get outside while we're on this warmer side, and Thursday is our pick of the week with a mostly sunny day! We'll top out around 73 degrees Thursday, with a light breeze.
Clouds increase Thursday night, and spotty rain arrives Friday morning. As the cold front gets closer, we'll see a mostly cloudy Friday with a few rain showers possible. The actual front's rain doesn't arrive until the evening, after sunset. That's when we have a 60% coverage of our area in rain, then that will taper off to spotty by Saturday morning.
Cooler air settles in this weekend, with a partly cloudy Saturday and a high of 58 degrees. We'll drop to the mid 30s with some frost Sunday morning, and then sunshine helps us climb to 60 degrees.
In your First Alert 8-Day Planner, we're watching another cold front to head this way. We need every bit of rain we can get, so this part is good news! As of now, we're seeing more on-and-off rain Monday night, Tuesday, to early Wednesday, then a cool-down just beyond the 8-day forecast for Thanksgiving Day.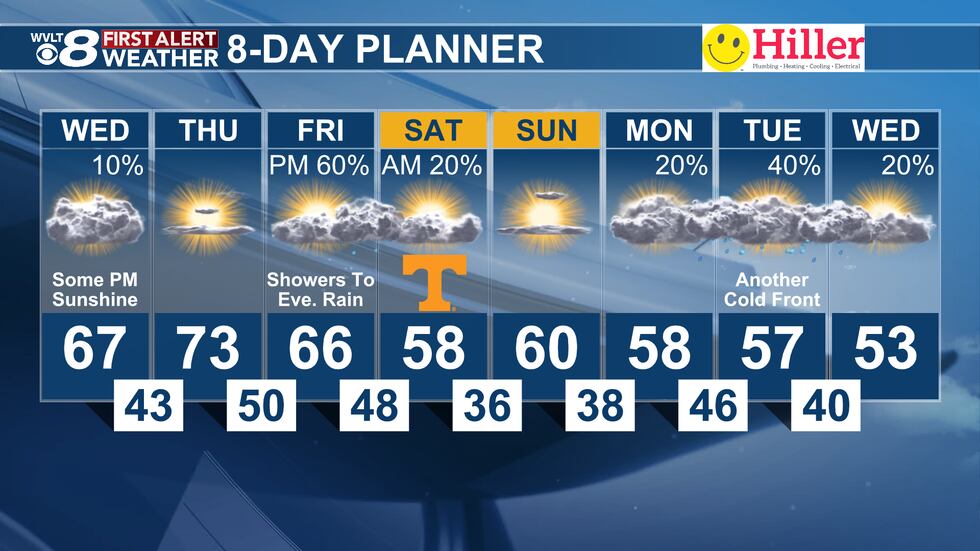 Copyright 2023 WVLT. All rights reserved.