Choto fire contained but could burn for days
The fire is reportedly located in the area of Duck Cover Drive
Published: Nov. 14, 2023 at 8:06 PM EST
|
Updated: Nov. 14, 2023 at 11:40 PM EST
KNOXVILLE, Tenn. (WVLT) - Rural Metro Fire crews are still on the scene of a brush fire near Duck Cover Drive in the Choto community.
In the latest update from Rural Metro Fire at 10:00 p.m. Tuesday was the fire is now 100 percent contained. Tennessee Division of Forestry and a Rural Metro Fire Brush crew are remaining on the scene to monitor and extinguish hot spots.
Rural Metro said that trees and other heavy timber inside the fire line may burn for a while until the area gets measurable rainfall.
The fire spans approximately 24 acres and has reportedly been burning since early Monday afternoon, according to officials. Rural Metro Fire officials said they believed the brush fire was being fueled by heavy leaves and underbrush.
Rural Metro Fire officials reported that the terrain is steep and difficult for crews to access to battle the flames effectively. Officials also said that structures were previously in danger, but crews now have effective measures in place to protect them.
Officials also said that crews are attempting to gain access through a wooded area with the assistance of a Knox County rescue boat equipped with a fire pump.
No evacuations of the area have been ordered.
The Tennessee Division of Forestry was also on the scene with a dozer to dig a fire line around the fire. At least five fire companies were on the scene with several off-duty personnel responding as well, according to officials.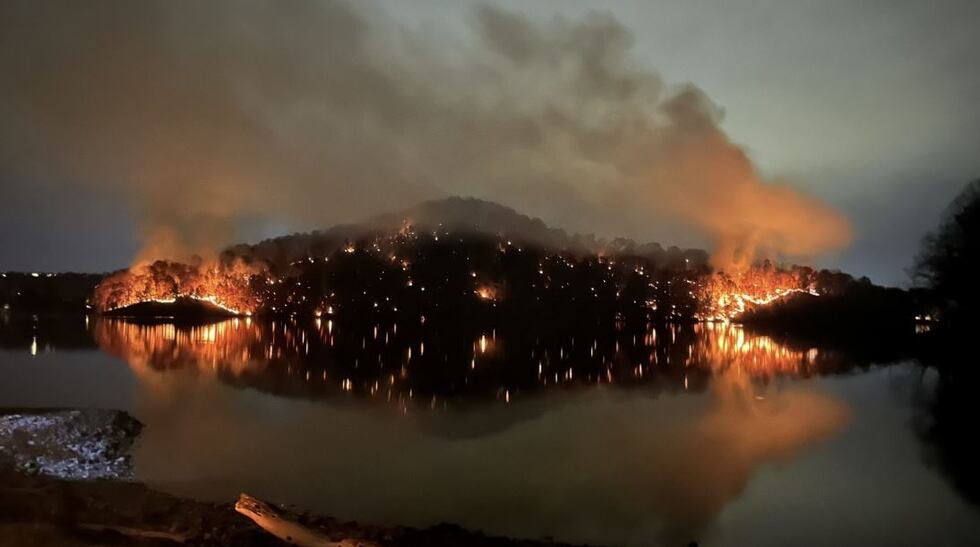 Rural Metro Fire urges people to refrain from starting fires outdoors and to heed all warnings, as the burn ban will likely continue into the next day or so.
More updates will be provided as new information becomes available.
Copyright 2023 WVLT. All rights reserved.