Tennessee basketball surges past Wofford for the win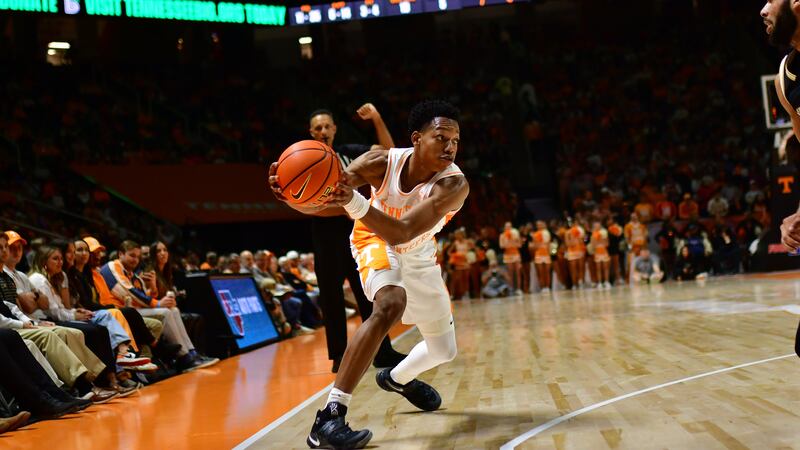 Published: Nov. 14, 2023 at 11:09 PM EST
KNOXVILLE, Tenn. (WVLT) - It was a gritty game early between Tennessee and Wofford, as the programs battled it out on the glass and on the perimeter. The Vols were marginally better on the board, outrebounding Wofford 37 to 34 but both had 15 offensive rebounds.
Tennessee surged in the second half and won by a final score of 82-61 Tuesday night.
No. 7 Tennessee was led by a team-high 18 points from fifth-year guard Dalton Knecht. Knecht shot 6-of-11 from the floor and 5-of-6 at the line, as he paced the Volunteers in scoring for the third time in as many contests to begin the season. The reigning SEC Player of the Week added three rebounds, two steals, and one block.
Junior guard Jordan Gainey registered 16 points and fifth-year guard Santiago Vescovi recorded 11 points of his own, resulting in season-high point totals for the two.
Fifth-year guard Josiah-Jordan James eclipsed 1,000 in his career with an eight-point affair inside Thompson-Boling Arena. He became just the 55th Vol to do so.
Tennessee finished the night with a 45.8 percent (27-of-59) clip from the floor, including a 40.7 percent (11-of-27) ledger beyond the arc. At the other end, it held Wofford to 37.7 percent (23-of-61) and 27.0 percent (10-of-37) shooting, respectively.
Up next, the Volunteers resume play Monday in the opening round of the three-day Allstate Maui Invitational, facing Syracuse at 2:30 p.m. ET at SimpliFi Arena at the Stan Sheriff Center in Honolulu.
Copyright 2023 WVLT. All rights reserved.