Tracking showers and cool down with the next cold front
Meteorologist Ben Cathey is tracking another cold front next week.
Published: Nov. 16, 2023 at 2:28 PM EST
|
Updated: Nov. 16, 2023 at 7:29 PM EST
KNOXVILLE, Tenn. (WVLT) - The Exceptional Drought has expanded into parts of East Tennessee, so we need the rain desperately. We are tracking a weak cold front Friday and another cold front to move in early next week.
Join us on the WVLT First Alert Weather app for iPhone or Android, so you can stay informed on the go and in between newscasts. We share custom videos, plus you can choose to get messages from us on the latest conditions and forecast.
WHAT TO EXPECT
Clouds move back in tonight ahead of our next cold front. Temperatures will start out near 50 degrees Friday morning.
Spotty showers are possible along the Plateau and parts of southeastern Kentucky Friday morning. The scattered showers really dip down into the Valley by the afternoon hours. We'll see mostly cloudy skies throughout the day with highs near 70 degrees. Winds are from the southwest at 5 to 15 mph, so it'll be breezy at times. Most of the rain arrives overnight but only at a 60% coverage. Overall, we could see about 0.10″ to about 0.25″ of rain by Saturday morning.
LOOKING AHEAD
A few spotty showers linger along the mountaintops Saturday morning with cloudy skies. Winds shift from the north 5 to 10 mph on Saturday and could gusts up to 15 to 20 mph. In your I'm All Vol Forecast, we'll see more sunshine by the afternoon with a seasonable high of 60 around kick-off at 3:30 p.m. on WVLT.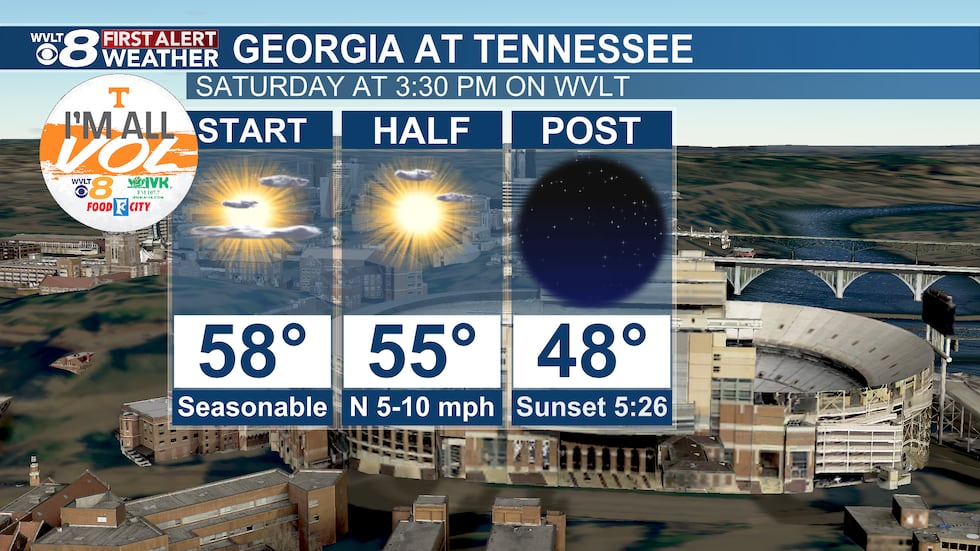 Sunday starts out with patchy frost and a low of 36 degrees, then a mostly sunny day helps us climb to 62 degrees.
In your First Alert 8-Day Planner, we're watching another cold front to head this way. As of now, we're seeing more on-and-off rain to start by Monday evening and last through Tuesday to early Wednesday. Winds are looking gusty at times with some heavier downpours. This wraps up with spotty rain to stray mountaintop snow Wednesday morning, and cooler air leading into Thanksgiving!
Copyright 2023 WVLT. All rights reserved.