Warm sunshine today ahead of the next cold front
Chief Meteorologist Heather has the latest on rain and some storms Friday, and some on and off rain next week.
Published: Nov. 16, 2023 at 5:22 AM EST
|
Updated: Nov. 16, 2023 at 12:32 PM EST
KNOXVILLE, Tenn. (WVLT) - If you enjoy the warmer weather, get outside today! The first of two cold fronts moves in tomorrow, with more rain for some than others. The second cold front brings on and off rain for a longer period and brings down temperatures in time for Thanksgiving!
Join us on the WVLT First Alert Weather app for iPhone or Android, so you can stay informed on the go and in between newscasts. We share custom videos, plus you can choose to get messages from us on the latest conditions and forecast.
WHAT TO EXPECT
Thursday is mostly sunny and warm, with a high of 73 degrees. That is more than 10 degrees above the average high for this time of year, so enjoy! Winds are calm.
Clouds start increasing again this evening to overnight, with a stray shower possible, and a low of 50 degrees.
LOOKING AHEAD
Spotty rain arrives on the Plateau to the Tennessee, Kentucky line Friday morning. As the cold front gets closer, we'll see a mostly cloudy Friday with a few rain showers and isolated storms possible. The actual front's rain doesn't arrive until closer to sunset. We're still only looking at a 60% coverage of our area in rain, with lighter rainfall potential now for the Valley then some heavier potential for the mountains to far Northeast Tennessee and far Southeastern Kentucky. (Open the free WVLT First Alert Weather app to keep up with the latest rainfall potential!)
The coverage is spotty Friday night to early Saturday, with clouds decreasing in the afternoon. This makes for a cold wind out of the north 5 to 10 mph Saturday, and gusts 15 to 20 early to midday. Then in time for the I'm All Vol forecast, we have more sunshine and a seasonable high of 60 degrees for that 3:30 kickoff on WVLT against Georgia!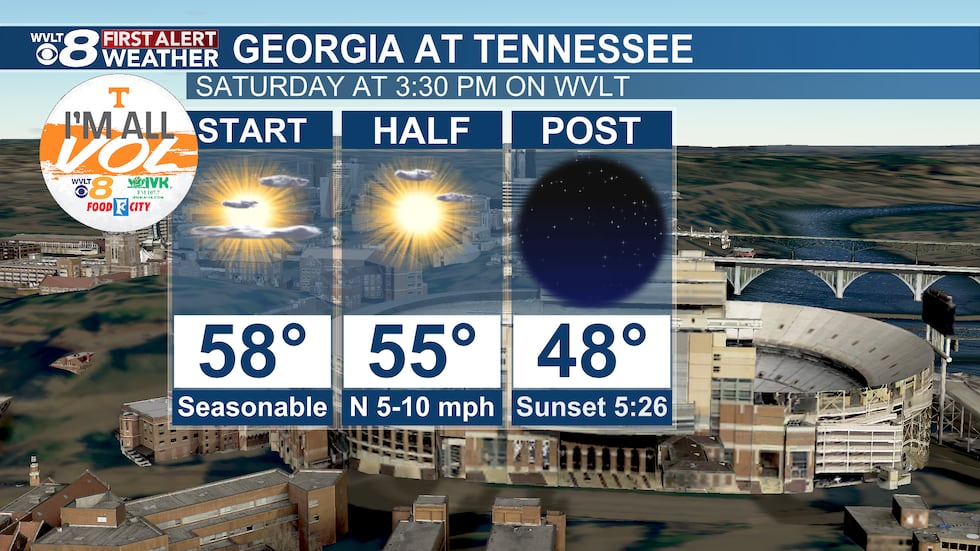 Sunday starts out with patchy frost and a low of 36 degrees, then a mostly sunny day helps us climb to 62 degrees.
In your First Alert 8-Day Planner, we're watching another cold front to head this way. As of now, we're seeing more on-and-off rain to start by Monday evening and last through Tuesday to early Wednesday. Winds are looking gusty at times with some heavier downpours. This wraps up with spotty rain to stray mountaintop snow Wednesday morning, and cooler air leading into Thanksgiving!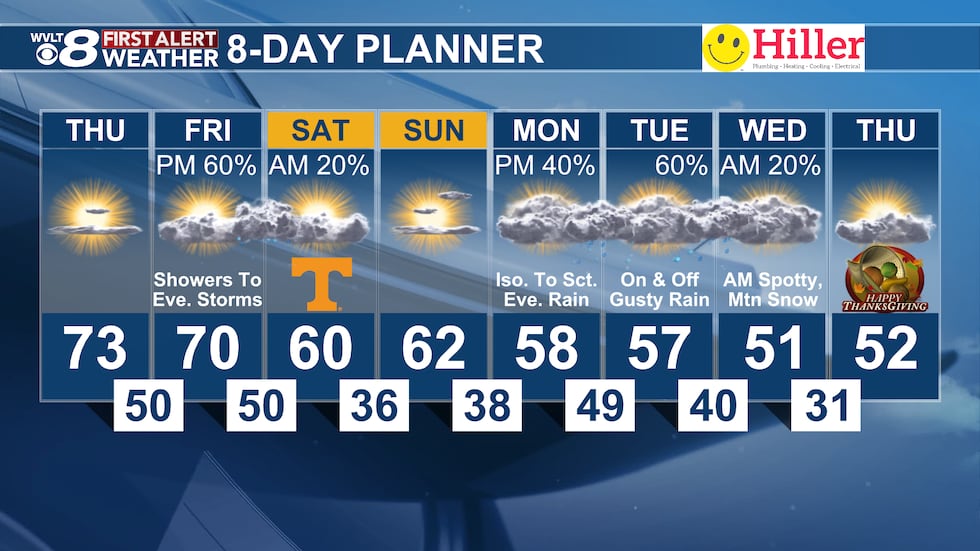 Copyright 2023 WVLT. All rights reserved.