Winter Outlook 2023: What to expect in East Tennessee
Chief Meteorologist Heather Haley breaks down how a big picture weather pattern will impact our area this winter.
Published: Nov. 16, 2023 at 11:51 AM EST
KNOXVILLE, Tenn. (WVLT) - Every year the WVLT First Alert Weather team monitors big-picture weather patterns that can impact our season.
When we're talking about an outlook, this is an overall summary, big-picture look at several months. A forecast is a short-range look at detailed ups and downs.
Winter Folklore
Whether you think it's fun or you bank on the bugs, the folklore in this region is something that gets people looking ahead to the upcoming winter months in advance.
Did you county how many times it was foggy where you live in August? We counted at the airport for Knoxville and this is supposed to indicate how many times it will snow.
Now, we count any time some snow falls, and in some years this lines up well, but last year it did not. August 2022 had 15 fogs, and if you think a dense fog means it will be a heavier snowfall then there were three dense fog observations.
If you have a persimmon tree on your property, you can try to cut open the seeds to see what they say. The old lore says you're supposed to wait until they ripen, but some crack those open as soon as you can.
At the Hiwassee/Ocoee State Park, they cut open 50! That's impressive because they're so thin, but they found more than half look like "spoons." A spoon shape in the seed is supposed to point to a snowy winter, and a knife is "cutting" cold air, with a fork meaning mild or light snowfall.
A favorite is the wooly worm, simply because it's luck of the draw if you spot the right type with the mix of brown and black. It has to have a brown band on it, because that part is supposed to indicate when we will see milder weather and how long it will last. More black on the front or back indicates harsher weather for this part of the winter. We had multiple folks share wooly worms with fairly large brown band, so these fuzzy forecasters say it will be a mild winter.
What's "Normal?"
When we look at two decades of data from the National Weather Service for Knoxville, we have a good idea of average temperatures and precipitation. Temperatures are coming down in December to January, but on average run a little warmer in February. Precipitation in Knoxville is fairly wet in the winter, but the snowfall has better odds in January and February. March's average snow fall hovers around an inch in Knoxville.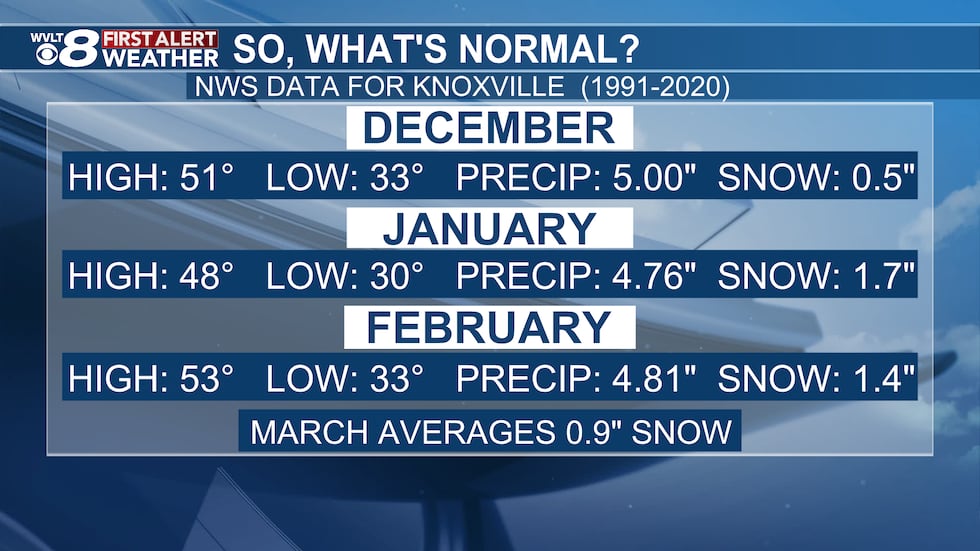 We have some big elevation changes in our area that make for big differences in the weather, especially in the winter! From the Valley to the Plateau in the west, and hills to mountains in far Northeast Tennessee and Southeastern Kentucky, then highest peaks in the Smoky Mountains running along the Tennessee, North Carolina line. I dug into the average snowfall for every part of our area to create this custom First Alert Snowfall Averages map for you to see how this impacts our weather.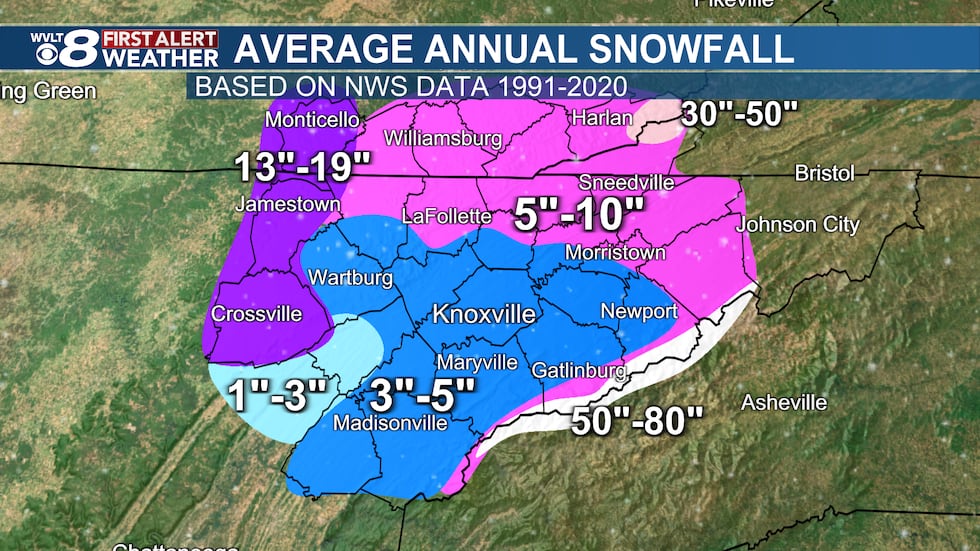 This Year's Weather Pattern
El Niño is a term you'll hear a lot this year. It's actually a shift in warm waters shifting in the Pacific Ocean along South and Central America. This is important because it creates a wetter pattern reaching up to the southwestern U.S. That wetter pattern than commonly drops across the southeastern U.S. and leaves temperatures cooler. This also pushes warmer weather across the northwest. We often fall in between all this! This means that active weather can often miss us, and strong cold snaps are kept in the northeast.
This is the first year the El Niño is taking back over, and that can continue for a more extended period of time. When I look into the historical impact of these El Niño winters, we often have have a quieter winter when this pattern first takes over. When I look at snowfall in particular, the Smoky Mountains have a tendency to have average to above average snow.
What To Expect This Winter
The trend for this winter is overall average to warmer than average, with the northern half of our area looking warmer. That's because a wetter pattern can keep it cooler overall from the Southern Valley up the foothills to Smoky Mountains, to far Northeast Tennessee. I think this leads to below average snowfall for the Valley, Plateau to the Tennessee, Kentucky line. The Smoky Mountains is where I think we'll have average to above average snowfall.
Copyright 2023 WVLT. All rights reserved.