Dry sunshine moves back in for the afternoon
We'll stay dry for the weekend before the next front arrives to bring us rain to start Thanksgiving week.
Published: Nov. 18, 2023 at 6:31 AM EST
|
Updated: Nov. 18, 2023 at 9:19 AM EST
KNOXVILLE, Tenn. (WVLT) - We've all wanted the rain and we did manage to get a little bit Friday night and into Saturday. Unfortunately, the rain is gone for the rest of the weekend.
Join us on the WVLT First Alert Weather app for iPhone or Android, so you can stay informed on the go and in between newscasts. We share custom videos, plus you can choose to get messages from us on the latest conditions and forecast.
WHAT TO EXPECT
We'll move into Saturday afternoon with mostly sunny skies and temperatures in the upper 50s to low 60s.
In your I'm All Vol Forecast, the clear sky lets us drop quickly as the sun sets after that 3:30 p.m. kickoff on WVLT.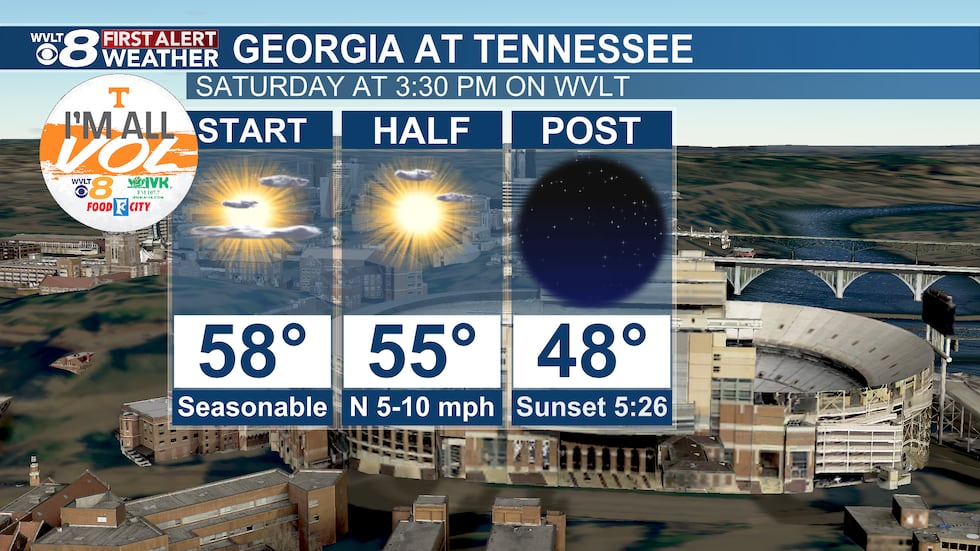 Through the evening hours it will be chilly for Winterfest at the Island to check out all the lights with temperatures dipping into the 50s. It will feel like the mid 40s through 8 p.m. so take a jacket for outside activities.
LOOKING AHEAD
We'll start Sunday off in the low 30s with some areas of frost around. For the afternoon we'll keep the sunshine, winds at about 5 mph, and temperatures in the upper 50s to near 60 in most locations.
In your First Alert 8-Day Planner, we're seeing most of the rain arrive on Tuesday and linger into early Wednesday morning. Spotty mountain snow is possible early Wednesday morning as temperatures drop behind the cold front. We'll be chilly heading into Thanksgiving!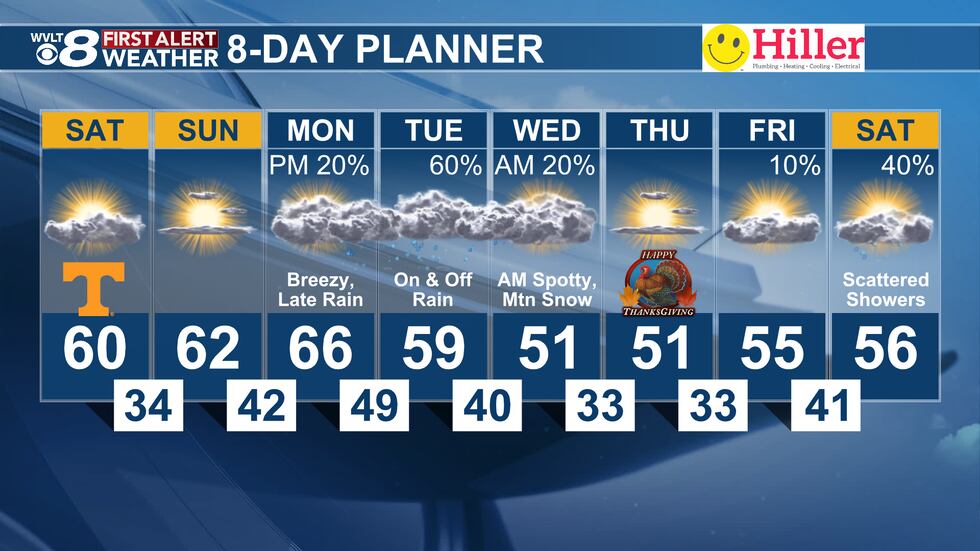 Copyright 2023 WVLT. All rights reserved.