High fire danger Monday, before a messy commute Tuesday morning
Meteorologist Jacob Durham is tracking strong winds and much needed rainfall.
Published: Nov. 19, 2023 at 4:55 PM EST
|
Updated: Nov. 19, 2023 at 10:27 PM EST
KNOXVILLE, Tenn. (WVLT) - Drier air is continuing to remain in place for for our Monday as winds are picking up, especially across our higher elevations. Please refrain from burning trash and leaves as we await for the arrival of much needed rainfall on Tuesday.
Join us on the WVLT First Alert Weather app for iPhone or Android, so you can stay informed on the go and in between newscasts. We share custom videos, plus you can choose to get messages from us on the latest conditions and forecast.
WHAT TO EXPECT
Temperatures remain chilly as we head into the overnight hours as most locations are falling back into the lower 40s as we head into Monday morning. A few clouds will be moving in as well, but we are staying dry for now.
A mixture of sun and clouds can be expected as we head through Monday afternoon with a few spotty showers possible, mainly along the plateau and into Southeastern Kentucky. High temperatures remain above average as we head back into the middle 60s. Winds will be gusty with most areas around 20 mph at times, but the foothills and mountains could be dealing with gust upwards of 50-60 mph in the highest elevations, elevating our fire risk.
LOOKING AHEAD
Thankfully our rain chances are increasing Monday night into Tuesday morning. There is a WVLT First Alert Weather Day in place for Tuesday morning as rain could slow down your morning commute. This is much needed rainfall as most locations see around an inch of rain with locally higher amounts possible.
Our temperatures will cool down as we head into Thanksgiving with highs back into the lower and middle 50s. Overnight lows are back into the middle 30s to start the morning.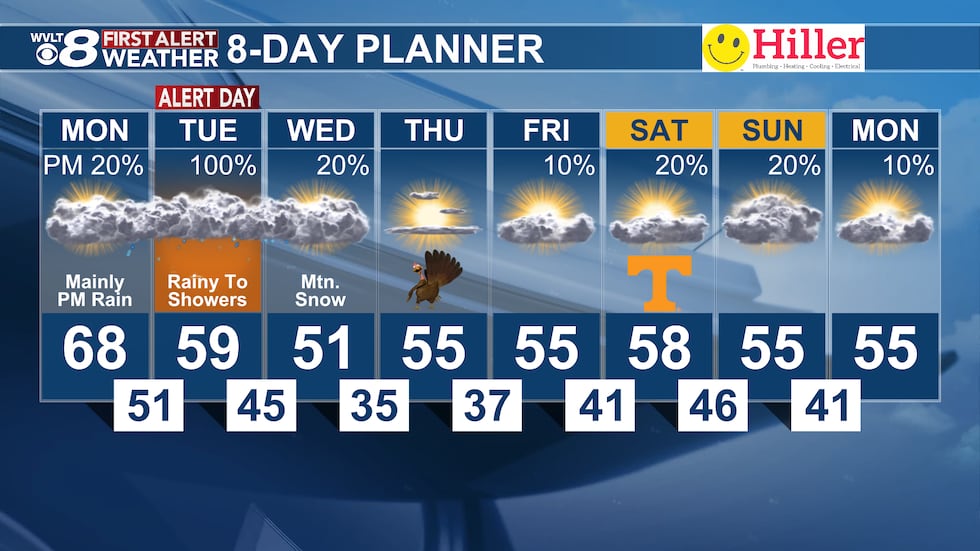 Copyright 2023 WVLT. All rights reserved.