One more day of sunshine, then the rain returns
Winds will pick-up moving to Tuesday for a First Alert Weather Day.
Published: Nov. 19, 2023 at 6:40 AM EST
|
Updated: Nov. 19, 2023 at 11:10 AM EST
KNOXVILLE, Tenn. (WVLT) - The sunshine is back with us as we move into this Sunday afternoon. We'll have temperatures climb as well back into the low to mid 60s.
Join us on the WVLT First Alert Weather app for iPhone or Android, so you can stay informed on the go and in between newscasts. We share custom videos, plus you can choose to get messages from us on the latest conditions and forecast.
WHAT TO EXPECT
Sunshine is the name of the story as we move into our Sunday. The sun will help us to warm into the low to mid 60s for the afternoon. Winds will run out of the NE at 5-10 mph.
Moving into the over night, we'll have a few more clouds around. That won't be enough to keep us from cooling down moving into mid 40s to start Monday.
LOOKING AHEAD
Clouds will build through the day on Monday with a few spotty showers arriving late in the day. The best rain chances return as we head into Tuesday with widespread rain settling in for much of the day. This won't bring us out of the drought, but will help us in a big way with most areas picking up close to an inch of rain.
A WVLT First Alert Day has been issued for the morning commute Tuesday as rain could lead to lower visibility as well as ponding on the roadways.
A few mountain snow showers are possible heading into Wednesday as cooler weather moves in for Thanksgiving. Expect temperatures to drop back into the lower 30s Thanksgiving morning with lower and middle 50s during the afternoon.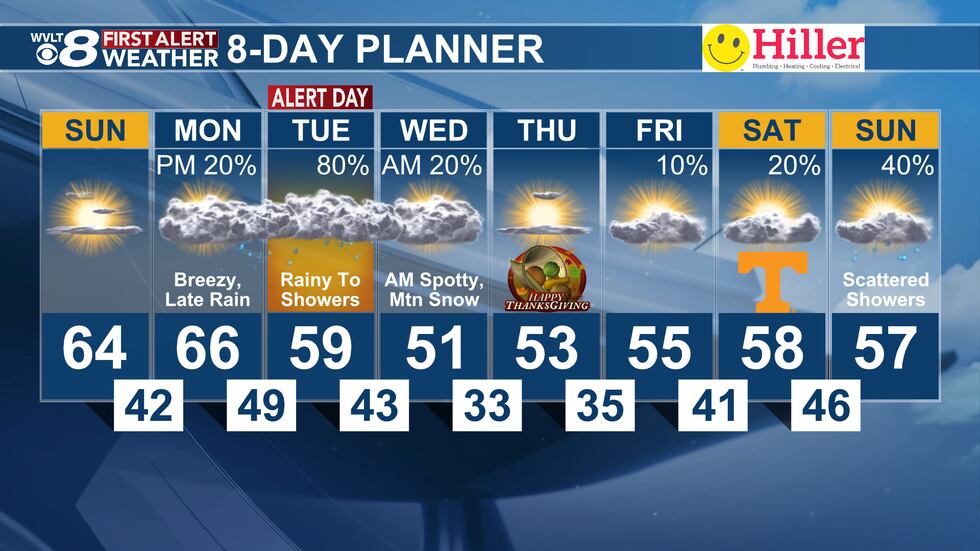 Copyright 2023 WVLT. All rights reserved.