Tennessee Vols turn page to final home game of the 2023 season
The Vols will host Vanderbilt in final regular season game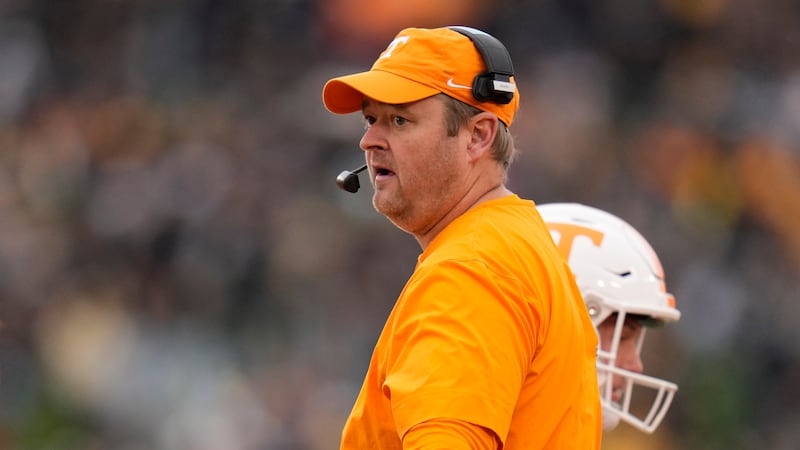 Published: Nov. 20, 2023 at 3:28 PM EST
KNOXVILLE, Tenn. (WVLT) - Saturday will mark the last career game for several seniors as the program shifts its focus to Vanderbilt, who they'll host in their final regular season game.
As they prepare for their final outing inside Neyland Stadium, the offense is focusing on being more efficient, specifically on third downs to help sustain drives.
The Vols struggled mightily against the Georgia Bulldogs. After an explosive 75-yard touchdown run on the opening play by Jaylen Wright, Tennessee only converted 12 more first downs and went 2 for 11 on third down conversions.
Georgia had 27 first downs and scored points on 6 of their 10 possessions.
Coach Josh Heupel said it comes down to executing better on offense.
"We're not accurate with the football or don't come down with the catch in one of the man-to-man situations. All of those things parlay themselves into not being as efficient and effective as you need to be during the course of that game," said Heupel.
The Vols took to the practice field Monday with a familiar feeling of disappointment. Their loss to Georgia gives them back-to-back losses for just the second time in the Josh Heupel era.
It's a mood Heupel said he expected from the team after the tough loss, but now it's about turning that disappointment into something positive.
Injuries have plagued the team, especially on offense. Most recently, Javontez Spraggins left the game in the third quarter with an injury that will sideline him for the remainder of the season.
Despite the challenges, the team is determined to win against in-state rival Vanderbilt on Saturday.
Wide Receiver Ramel Keyton said, "The mood of course after a loss isn't going to be, like, everybody happy. But at the same time, you can look at it as if you can lose three back-to-back, or you can go and win your last home game. So I feel like it's a pride thing now. We're not going to go out and lose three back-to-back, especially to Vanderbilt, when it's our home state. I feel like we're going to go out there ready to play."
The Vols and Commodores square off Saturday at 3:30 p.m.
Copyright 2023 WVLT. All rights reserved.