Much needed rain continues to fall throughout the day
Meteorologist Paige Noel says it's still a windy day as the rain moves through.
Published: Nov. 21, 2023 at 3:47 AM EST
|
Updated: Nov. 21, 2023 at 11:03 AM EST
KNOXVILLE, Tenn. (WVLT) - The much-needed rain continues throughout the day today. It's windy at times with gusts up to 30 mph. We'll dry out and cool off after this cold front moves through.
Join us on the WVLT First Alert Weather app for iPhone or Android, so you can stay informed on the go and in between newscasts. We share custom videos, plus you can choose to get messages from us on the latest conditions and forecasts.
WHAT TO EXPECT
Rain continues throughout the majority of the day. We'll see about a 100% coverage of rain turn scattered to spotty by the later afternoon to evening hours. We'll only warm up to the lower 60s this afternoon. By the end of the day, we'll pick up about an inch of rain. Gusts are around 20 to 30 mph throughout the day.
The Red Flag Warning for the Smoky Mountains lasts until noon today. It's been so dry and with gusts 40 to 70 mph, fires that are started could spread quickly. With the rain moving in, that threat will go down throughout the day. A High Wind Warning is also in effect for the Smoky Mountains until 4 p.m. today.
LOOKING AHEAD
Wednesday is mostly cloudy with spotty rain showers and stray mountaintop snowfall, as the cooler air settles in and leaves us at only 51 degrees for the high.
For Thanksgiving, temperatures start out cold in the mid-30s and warm to the mid-50s with a mostly sunny day.
In your First Alert 8-Day Planner, clouds are in and out at times for several days. We'll have highs in the upper 50s this weekend, then a little cooler next week back in the upper 40s.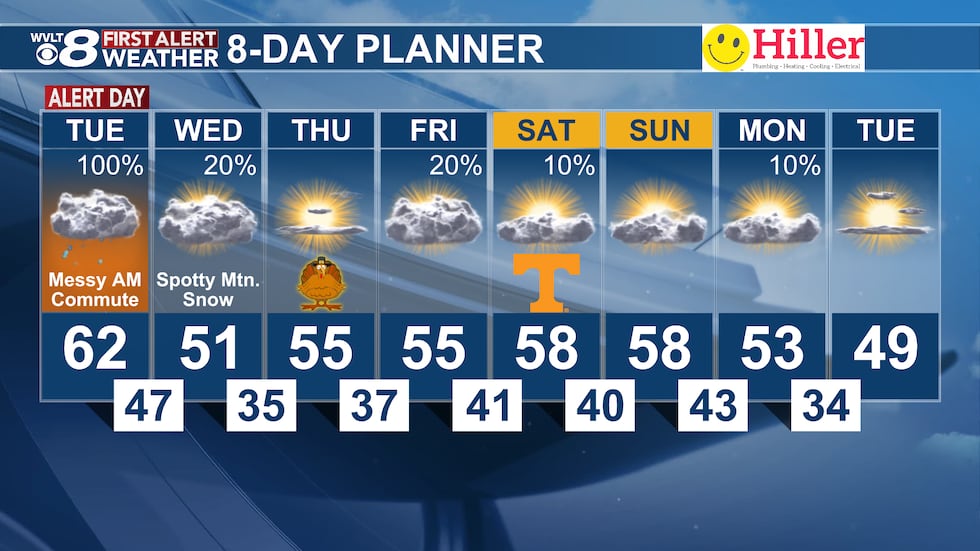 Copyright 2023 WVLT. All rights reserved.