Rainy to showers and cooler air moving in
Meteorologist Ben Cathey tracks lingering clouds and a cooler Wednesday.
Published: Nov. 21, 2023 at 12:56 PM EST
|
Updated: Nov. 21, 2023 at 6:04 PM EST
KNOXVILLE, Tenn. (WVLT) - The much-needed rain continues this afternoon, with wind gusts around 30 mph at times. Cooler, drier conditions are on the way!
Join us on the WVLT First Alert Weather app for iPhone or Android, so you can stay informed on the go and in between newscasts. We share custom videos, plus you can choose to get messages from us on the latest conditions and forecasts.
WHAT TO EXPECT
Rain is exiting this evening, with spotty showers behind that rainy band.
Tonight is mostly cloudy, with spotty rain showers. We'll cool to around 47 degrees by the morning. The "official" high for Wednesday comes from the overnight still in the 50s, with a cooler day ahead.
LOOKING AHEAD
Wednesday is mostly cloudy with spotty rain and stray mountaintop snowfall, as the cooler air settles in and leaves us barely budging on the temperature with an afternoon around 49 degrees.
The sky clears more for Thanksgiving, which gives us a colder morning around 35 degrees. The sunshine helps us warm to around 57 degrees Thursday, which is right around average for this time of the year.
In your First Alert 8-Day Planner, clouds are in and out at times Friday through the weekend. We'll have spotty showers possible again Friday, especially along the southern Valley to Smoky Mountains. Cooler days move in next week!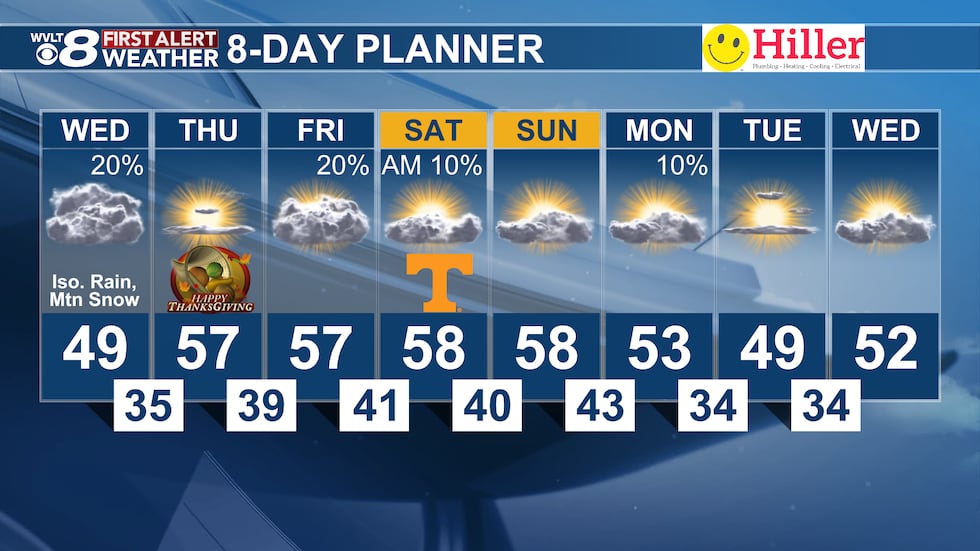 Copyright 2023 WVLT. All rights reserved.