Blessing Boxes showing up in East Tennessee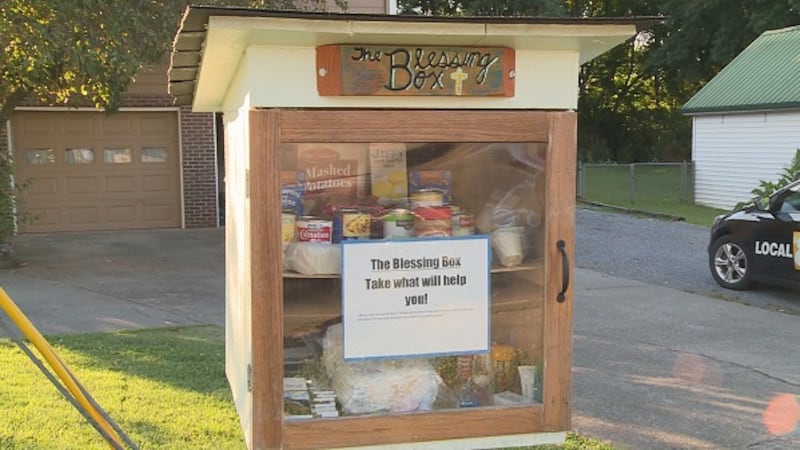 Published: Jun. 26, 2017 at 11:26 PM EDT
A Blessing Box may be small, but they are making a huge impact in lives across East Tennessee.
Denise Compton saw the idea first online, then said God put it on her heart to have one built outside Keeble's Baptist Church. Since then she said it has to be refilled almost daily.
"It's just compassion, compassion for your fellow man in a world where there just seems to be so much trouble, that there are still good folks that care," said Compton.
Others have built boxes in their front yards. Derek Bryant had his 'Blessing Box' installed last November and sometimes has to fill it up multiple times a day.
"I just want to see these on every corner in the community," said Bryant. "I think everybody together doing this will provide for a lot more people and we just want to see God's love shown."
Both Bryant and Compton said the boxes cost about $100 - $150 to build.
The boxes hold a variety of items for people who need help just getting through the day. The boxes are stocked with non-perishable food items as well as hygiene products such as toothpaste, deodorant and feminine hygiene products.
Bryant said it does not matter your circumstance, come grab what you need, no questions asked, and it's all free.
"You can pull up here in a Lexus and get what you want or walk up here. It's a judgement-free zone. We don't worry about that," said Bryant.
Bryant and Compton believe there are four boxes in Blount County and two boxes in Knox County.
Two in Rockford, including one on 321
Cold Springs Road in Walland
Montvale Road in Maryville
Lanier Road and Williamson Chapel Road in Maryville
One near Louisville