Little Ponderosa Zoo fire ruled accidental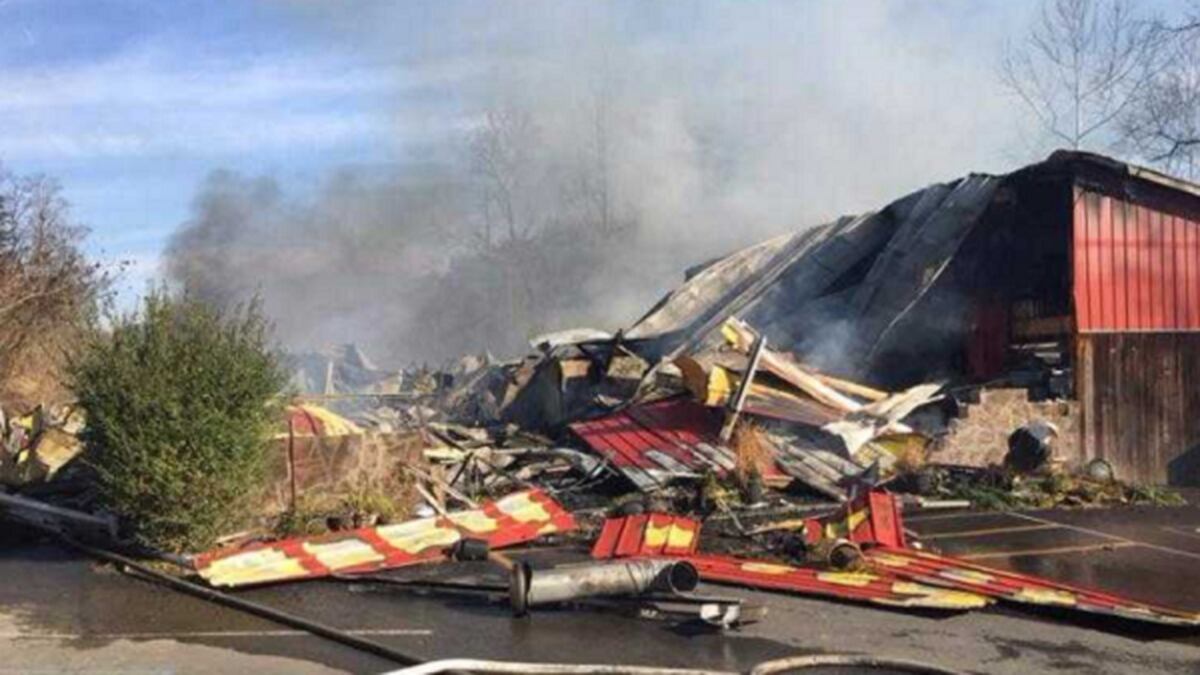 Published: Dec. 4, 2017 at 2:45 PM EST
Several animals were killed in a fire at the Little Ponderosa Zoo in Clinton, according to the Anderson County Sheriff's Department.
The main barn entrance, which held a number of exhibits, was destroyed. Approximately 15 primates, reptiles, birds and small feline were lost to the fire.
The Anderson County Sheriff's Department said the fire investigator determined that the fire was accidental and caused by an electrical malfunction at the rear of the barn.
"I'm devastated; my whole life is gone," James Cox, the zoo's founder, said. "I feel like what I've worked for is gone."
It was an emotional day for Little Ponderosa, a non-profit animal rescue and zoo off the beaten path in Anderson County.
"We've seen a lot of children smile and made a lot of people happy here," Cox said.
Just like the families that visited, the animals were family to the zoo's founder.
"Every animal has a soft spot in our heart," he said.
Flames ripped through the facility's main barn just after 12 p.m. on Monday. Firefighters still worked to determine a cause, but believed it was an accident.
Volunteers tell Local 8 News, the barn housed more than 100 animals, which included birds, reptiles, and primates. One of which was Trouble, a 17-foot python donated to the Little Ponderosa Zoo by Bonnie Matekovich's husband. She was informed Tuesday, Trouble died in the fire.
"It's tough. It's almost like a person. Your pet becomes part of your family. it's pretty heartbreaking," she said.
"A lot of the animals in the barn did not survive because they didn't have time to get them out," Michelle Lockhart, a volunteer, said.
TWRA said 15 animals died, but it's still early on in the investigation.
Danielle Reynar, a volunteer, said, "To see this many animals pass away, it's unbelievable."
Employees said it took just minutes for the entire barn to become engulfed in flames.
Cox said, "They started smelling smoke and the next thing we knew, they opened the barn and it was engulfed in flames."
The barn also stored food for animals. The officers performed a thorough inspection of a tiger enclosure and determined that it was not damaged in any way. Zoo workers said no animals were missing.
Tuesday, All Occasion Party Rentals donated a tent to substitute as a barn.
Only minor injuries were reported by zoo workers and one firefighter.
Cox told Local 8 News, he hopes to reopen the rescue in the Spring of 2018.
Local 8 News is working to confirm more information. Updates will be posted here. If you'd like to make a donation, visit the Ponderosa Zoo
.
The zoo is asking for straw, hay, shavings, pet taxis, pet water bottles, birdseed, cat and dog food, rabbit food, monkey biscuits, buckets, food pans/ bowls, silverware, office supplies, bird cages, small animal cages, garbage bags, garbage cans, paper towels, toilet paper, halters and lead ropes, grain, towels, blankets, coolers for water storage, work benches, food crates, dish soap, shovels, rakes, hand tools, a deep freezer and refrigerator, heat lamps, and tarps.