Sheriff Spangler: Detective's anti-LGBT+ sermon 'vile and hate-filled'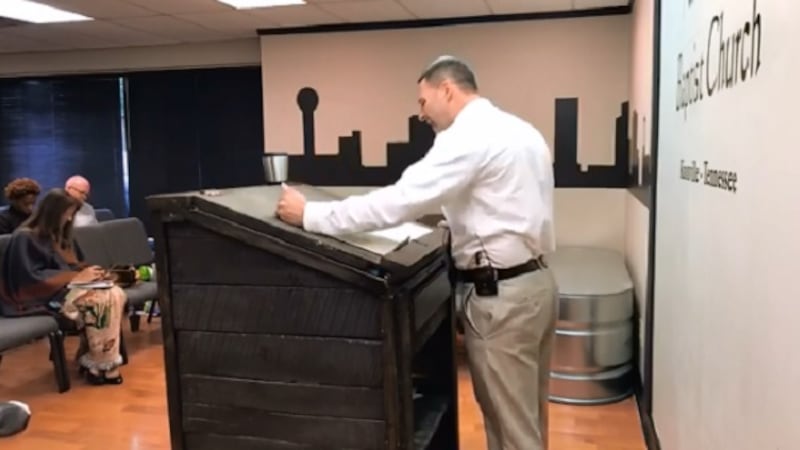 Published: Jun. 12, 2019 at 3:37 PM EDT
KNOXVILLE, Tenn. (WVLT) --
WARNING: This story contains language that some people may find upsetting.
"That is nothing more than vile and hate-filled speech," Knox County Sheriff Tom Spangler said about one of his deputies who delivered a sermon calling on the police and government to execute members of the LGBTQ community.
On Monday, June 17, Sheriff Spangler denounced the views delivered by embattled detective and pastor of
, Grayson Fritts. Spangler said the comments made by Fritts do not reflect the members of the Knox County Sheriff's Office.
"Our men and women put their lives on the line every single day. They will continue to do so regardless... When I learned of the video and watched it for myself, Det. Fritts was removed from his duties to answer calls for service, within hours," Spangler said.
Knox County District Attorney's Office representative, Sean McDermot encouraged anyone with a complaint about a closed case that involved Fritts to contact the DA's office.
"We are reviewing all pending cases to determine what role Mr. Fritts played in those investigations, and we will determine how to handle each matter on a case-by-case basis." said McDermott. "We will provide updates about our review at the appropriate time. Complaints about closed criminal cases can be made by emailing DAG@knoxcounty.org or calling 865-215-2515."
Knox County Mayor Glenn Jacobs made comments regarding the sermon Thurday afternoon.
"Mr. Fritts is not my employee so I can only give my personal thoughts on the issue," said Jacobs. "I find his comments to be extremely vile and reprehensible and I strongly condemn threats of or calls for violence. On an official level, I have the utmost confidence that Sheriff Spangler along with District Attorney Allen will handle this issue in a professional and appropriate manner."
Knoxville Mayor Madeline Rogero issued a statement on June 13, saying "I am outraged at the statements by Knox County Sheriff's Office Detective Grayson Fritts."
"Fritts' statements raise concerns locally and nationally about protecting LGBTQ+ rights and equality. Fritts' statements have cast a negative light on our community making it imperative to share my personal position and the position of the City of Knoxville. The City of Knoxville has been proactive in implementing LGBTQ+ equality and promoting inclusiveness in policy decisions and employee benefits for many years."
"The City takes very seriously the safety of everyone in our community. We also take great pride in serving a city that is both diverse and inclusive. We are excited to welcome the LGBTQ+ community and their supporters for PrideFest. We are planning and mobilizing staff to oversee the safety of all those in attendance."
WVLT News Reporter Robert Grant was invited to sit in on a Wednesday night service on June 12. He listened as Grayson Fritts told his congregation that he simply upheld the principles of the Bible and called other Baptist preachers, "weak and spineless" for not doing the same. Fritts said, "Just as much as God loves, God hates."
Fritts said he never called on civilians to commit violence against members of the LGBTQ+. He told his congregation Wednesday night that responsibility lies with the government. Grant listened as Fritts finished his commentary by saying, "Put homos to death."
Before the service started Wednesday night, someone left a note outside the church. It was quickly picked up by a congregant and taken inside the church building. It said, "Dear Pastor Fritts, I don't know what happened to you, but I am so sorry. Love, Thy Neighbor."
Knox County District Attorney General Charme Allen announced she would review all pending cases involving Fritts as a witness.
""I find this speech personally offensive and reprehensible. As District Attorney, my constitutional obligation is to protect the integrity of the justice system. When any potential witness in a criminal proceeding expresses an opinion of hatred and/or bias towards a class of citizens, I am ethically bound to explore that witness' credibility. Accordingly, I am reviewing all pending cases involving Mr. Fritts to scrutinize them for any potential bias. Although my office has never received a complaint regarding Mr. Fritts prior to this incident, I have assigned an Assistant District Attorney to receive complaints regarding closed cases, and I will act on those complaints as justice dictates."
The KCSO detective went on the defensive Wednesday night following the delivery of a sermon on June 2, 2019, calling on police to enforce a bible passage that prescribes death as punishment for being a member of the LGBTQ+ community. The sermon prompted an investigation by the Knox County District Attorney's Office.
"The purpose of this sermon is, our government, like the police, should enforce Leviticus 20:13," Fritts said during a service at All Scripture Baptist Church during a sermon titled "Sodomite Reprobates."
The King James Bible version of Leviticus says, "If a man also lie with mankind, as he lieth with a woman, both of them have committed an abomination: they shall surely be put to death; their blood shall be upon them."
Fritts made several violent statements in his sermon, calling non-straight people "freaks, animals" and other names. He expressed the belief that it is the duty of police and the government to enforce anti-LGBTQ+ laws that are outlined in the Bible.
"Here's how it should work, it shouldn't work when we go out and we enforce the laws, because the Bible says the powers that be are ordained of God and God has instilled the power of civil government to send the police in 2019 out to these LGBT FREAKS and arrest them," he ranted. "Have a trial for them, and if they are convicted then they are to be put to death...do you understand that? it's a capital crime to be carried out by our government."
Fritts went on to say, "All the pride parades, man, hey call the riot teams, we got a bunch of 'em, get the patty wagon out here, we got a bunch of 'em going to jail, we got a bunch of them we're gonna get convicted because they've got their pride junk on and they're professing what they are, they're a filthy animal."
"After this onslaught, where the government's arresting them and carrying out God's laws and they're all dead...you think."
Fritts has been a pastor at the church for two years and is expected to give his Wednesday sermon as normal.
The church clearly outlined its beliefs regarding homosexuality on its website, "We believe that sodomy (homosexuality) is a sin that is against nature. A person will only burn in their lust toward the same gender if they have been given over to a reprobate or rejected mind. God said homosexuality should be punished with the death penalty, as set forth in Leviticus 20:13. No homosexual will be allowed to attend or join All Scripture Baptist Church."
The website also condemned Calvanism (sic), and expresses its belief in the end times.
The sheriff's office said that just days before delivering the sermon, Fritts asked for early retirement from the department.
Knox County Sheriff Tom Spangler said Grayson Fritts made the request two weeks prior to June 12.
"Detective Fritts turned in his request for The Knox County Voluntary Workforce Reduction Buy Out approximately two weeks ago. I accepted his request. Detective Fritts is no longer on active duty with the Knox County Sheriff's Office, he is currently on paid sick leave until the effective date of the workforce reduction which will be July 19, 2019.
I want to be very clear that it is my responsibility to ensure equal protection to ALL citizens of Knox County, Tennessee under the law, my oath and the United States Constitution without discrimination or hesitation. Rest assured that I have and will continue to do so," said Spangler.
Fritts was named Detective of the Month by Knox County Sheriff's Office in 2017 after taking a suspect in a violent home break-in into custody within 24 hours.
A spokesperson for the Knox County District Attorney told WVLT News its office launched an investigation into the matter.
"We are looking into it and will respond accordingly," said DA Allen. "As District Attorney, I have dedicated my career to the belief that justice is blind and that all people are entitled to equal protection of the law. I always have, and always will prosecute fairly and justly, based upon the law and the evidence, without prejudice, bias, or discrimination of any kind."
While WVLT News crews were on site at the church, an individual dropped off an LGBT pride flag with a note attached saying, "Dear Pastor Fritts, I don't know what happened to you, but I am so sorry. Love, Thy Neighbor."
Someone from inside the church quickly came outside and picked the note and flag up and went back inside the church.
The Knox County District Attorney's
Copyright 2019 WVLT. All rights reserved.