Sevier County committee meetings scheduled for Thursday canceled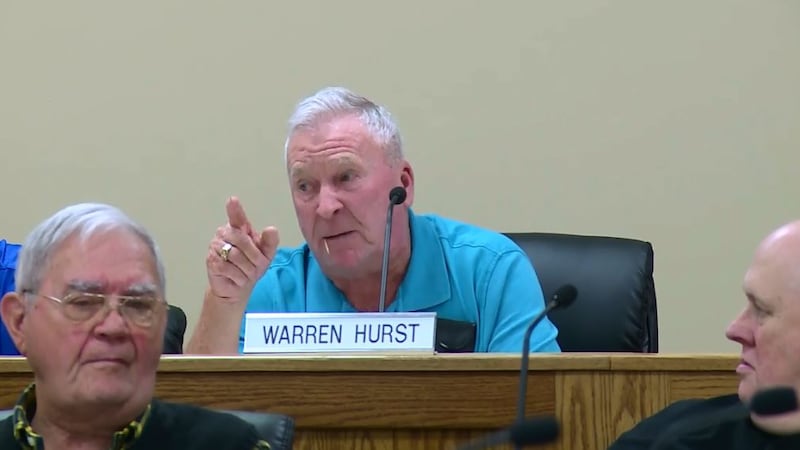 Published: Oct. 21, 2019 at 10:33 PM EDT
Sevier County officials announced that committee meetings scheduled for Thursday have been canceled because commissioners have "nothing to present."
An organization has launched a petition asking for Sevier County officials to censure commissioner Warren Hurst after his homophobic comments made national news.
Hurst took the floor on Oct. 21 to speak about the commission's pending vote on becoming a gun sanctuary city.
"It's time we wake up people, it's time, it's past time," Hurst said.
Hurst also voiced his opinions on other topics.
"We got a queer running for president, if that ain't about as ugly as you can get," he said. "Look what we got running for president in the Democratic party. We can go over here to Hoss's jail [Sevier County Sheriff] and get better people out of there than those running for democratic, to be President of the United States."
The Tennessee Equality Project launched the petition on Monday, Oct. 28. See the petition
. A censure is typically a formal message of disapproval.
By Wednesday, the petition had reached its goal of 1,000 signatures with 1,263 signatures. As of November 18, it had more than 1,700 signatures.
The Sevier County Mayor's Office said on Monday that they did not know of any plans to censure Hurst as the next commission meeting is not until November.
Days after the news made national headlines, Mayor Pete Buttigieg responded.
"Fear and hate are running rampant in our country and this is clear evidence of it even in my hometown," she wrote. She also added she did not speak for any of her family.
The City of Pigeon Forge sent a release on behalf of city manager Earlene Teaster:
"On behalf of the city of Pigeon Forge, we in no way condone Sevier County Commissioner Hurst's disturbing comments. His statements made during the Sevier County commission meeting do not represent the views and feelings of the city of Pigeon Forge. Pigeon Forge welcomes everyone with open arms. We do not discriminate."
The Tennessee Equality Project is calling for his resignation after his comments about the LGBTQ community.
"He should apologize and yes he should consider resigning," said a TEP representative. "If there were some weird extenuating circumstances like he was having a medical issue, but right now it just looks like he made those remarks."
The City of Sevierville condemned the homophobic comments made at a public meeting on Monday evening.
"On October 21, 2019, Sevier County Commissioner Warren Hurst made several offensive remarks during an open commission meeting that have produced much concern and rightful indignation, within our city and beyond," said the statement. "Although Sevier County government is separate from Sevierville City government, we realize that these remarks still impact all of us living and working in this area."
"The City of Sevierville Board of Mayor and Aldermen and City administration reject bigotry and prejudice towards any and all persons. As such, we strongly condemn the remarks of Commissioner Hurst. Mr. Hurst's remarks do not reflect the feelings of our residents, who are friendly, caring people and neighbors. The City of Sevierville and the entire Smoky Mountain community is a welcoming place for the millions that visit our region and the thousands who live here."
"The City of Sevierville does not discriminate in our business interactions, hiring, or attitudes towards our visitors or residents."
"The City of Sevierville is an equal opportunity employer and does not discriminate on the basis of sex or handicap in its programs or activities pursuant to Public Law 93-112 or 101-336. The City of Sevierville does not discriminate based on race, color or national origin in federal or state-sponsored programs, pursuant to Title VI of the Civil Rights Act of 1964 (42 U.S.C. 2000d.)"
Assistant to the Sevier County Mayor, Perrin Anderson also denounced the homophobic comments.
"The statements made by Commissioner Hurst at the Sevier County Commission meeting of October 21, 2019, do not reflect the opinion or position of Sevier County administration," Anderson said. "Sevier County is an Equal Opportunity Employer and does not discriminate based on race, color, religion, sex, national origin, age, disability, or status in any other group protected by law."
The Tennessee Equality project said they want people to attend the next Sevier County commission meeting in protest.
"Tennessee Equality Project is urging people to attend the next Sevier County Commission meeting in red to send a message that racism and homophobia are not acceptable in East Tennessee. We will not forget the Commissioner's harmful words. We condemn them and we believe many people in the area feel the same way."
Chris Sanders, a representative of the organization, said, "The racist and homophobic statements of Commissioner Hurst are something we condemn as strongly as we possibly can."
Sanders said they believe the county should censure him. "He should consider resigning unless he were willing to make a complete about face and introduce ordinances that would make county government more inclusive."
It's scheduled for November 18 at 6 p.m.
Learn more about the protest
.
Copyright 2019 WVLT News. All rights reserved.