KFD returns to Knoxville recycling center after fire flare up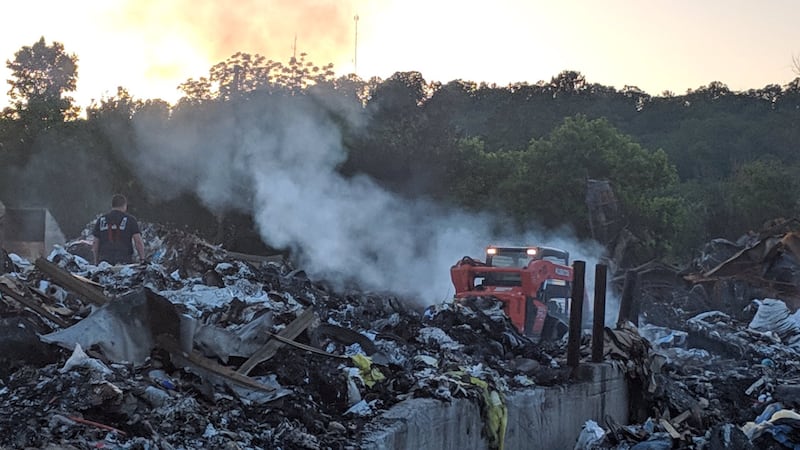 Published: May. 1, 2019 at 1:23 PM EDT
The Knoxville Fire Department said they returned to Fort Loudon Waste and Recycling Facility around 7 p.m. Monday after the fire had another flare up.
KFD said FLWR is responsible for maintaining a 24/7 watch on the site of the blaze to be sure no flare ups occur, but for an unknown reason no one was watching the building Monday evening.
A passerby spotted flames and notified fire officials.
"The incident occured during the time the two individuals left the premises. They were shocked to find firefighters upon their return."
The Knoxville Fire Department said the fire at the Fort Loudon Waste and Recycling was caused by a piece of equipment backfiring. KFD said a forklift that had a propane tank backfired and shot out flames, lighting bits of paper on fire.
Employees tried to control the blaze with fire extinguishers, but KFD said the fire and flames got out of control very quickly.
The fire was declared officially out last week, but firefighters monitored for hot spots.
KFD added smoke "may be settling" near or downwind of the fire at a North Knox recycling center.
"If you see or smell smoke, move away from the area. If you cannot move away from the smoke, shut doors and windows, turn off air conditioning and shelter in place."
A Knoxville Fire Department spokesperson said the fire is mostly out at a Knoxville recycling plant and the evacuation order has been lifted in the area.
"We're starting to see all white smoke which means the fire is mostly out," KFD said.
Firefighters used heavy equipment overnight and this morning to move debris as the fire continues to burn.
Evacuations still in effect this morning.
Road closures are still in place this morning as firefighters continue to work on the fire.
Overnight fire crews were able to gain access to different parts of the fire to make progress on putting it out.
They're using 1,000 gallons of water a minute.
5-6 blocks of street closed off surrounding area.
KFD has ruled the fire at a North Knox recycling center contained, and they say they're comfortable it won't spread, and power to all homes have been restored as of 6 p.m.
At around 10:30 p.m., KFD reported that, due to rain, smoke was going to areas around the fire. If you're in those areas, "use good judgement," KFD said, "leave the area if necessary." KPD said they will be assisting KFD overnight and into tomorrow with scene security and road closures.
If you can't leave the area, KFD said shut your windows and doors, turn off HVAC and shelter in place.
Residents on the south side of a fire at a North Knox recycling center are being evacuated. KFD said the evacuation is mandatory and includes about 100 homes for Morelia Ave to Banks Ave to Kenton St. to Atlanta Ave.
People are asked to go to the Emerald Youth Foundation at 1718 N. Central Ave. Police officers can assist those without transportation. The Red Cross has opened an emergency shelter there for those displaced from their homes.
Fire Captain D.J. Corcoran said the smoke is black because it is rife with toxic chemicals from recycling plant materials such as plastic and rubber that are burning.
Corcoran says this fire is difficult because it is not a typical structure fire, instead it's materials that are fueling the flame. Crews are bringing in an excavator to dig through the all the trash to find the core of the fire.
The Knoxville Fire Department said a flame shot from a forklift into a pile a paper could be the cause of a massive fire at the Fort Loudon Waste and Recycling Center at 2742 Hancock Street in North Knoxville.
KFD said anyone who is in close proximity to the area should leave the area or shelter in place.
The Knoxville Utilities Board said there are no issues in water supply as firefighters battle the blaze. KUB added there are no issues with water runoff at this time.
According to the Knox County Health Department, fires like the one at the recycling center can affect air quality. "Those in the area who are having any physical symptoms associated with smoke exposure (trouble breathing, chest pain, etc.) that don't resolve after going inside or after taking their prescribed medications should seek medical care immediately." As of about 4:20 p.m., the health department had not issued an official "air quality alert."
25 employees who were working at the plant were safely evacuated. No injuries have been reported so far.
The area of the fire has grown from one acre to an acre and a half. Crews are bringing excavators onto the scene to dig through the trash and reach the source of the fire.
Fire Captain D.J. Corcoran said they're working to extinguish a "big trash fire," and it could take hours or days to completely put out the blaze.
Anyone who is inside their home should turn off their HVAC system for safety.
The Salvation Army of Knoxville announced it was opening their gym for anyone displaced by the fire. "We are opening our air conditioned gym and providing water an dinner to those that need it tonight."
They ask anyone who comes to bring a pillow and blanket.
KUB said they have cut power to 700 homes in the vicinity of the fire as well as gas lines as a safety precaution.
The sounds of explosions near the fire are likely propane tanks according to fire crews.
Officials said the call came in shortly after 1:00 p.m. According to the Tennessee State Secretary, the recycling center filed for business in 2009. The Tennessee Department of Labor said the center has had two inspections over the last five years, one health and one safety. No word yet on if there were violations in those inspections.
This is a developing story. More information to come as it is made available.
Copyright 2019 WVLT News. All rights reserved.