Road reopens after massive sinkhole traps Grainger County neighborhood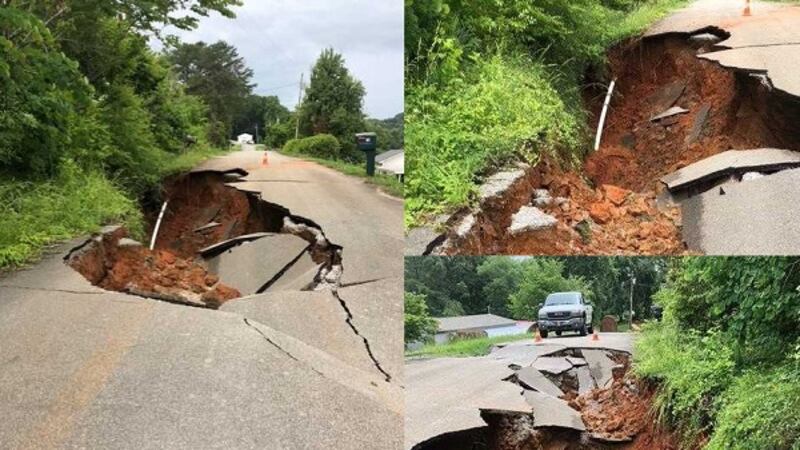 Published: May. 30, 2018 at 7:55 AM EDT
People who live along Honey Creek Lane in Grainger County can once again drive to and from their homes. The reopening of the road comes after a large sinkhole that exposed a water line left them unable to use the road since early Monday morning.
As crews worked to fill in the sinkhole on Wednesday, resident Karen Childers said she appreciated the county's efforts to get the road reopened.
Childers said, "I just appreciate them getting on it on the ball. We have several people here that are medical that have to have medical attention. It's stressful when you think you can't get out or they can't get to you."
Childers said she missed a doctor's appointment on Wednesday because of the sinkhole. A neighbor whose house is outside the area affected has been checking on her to bring supplies as she needs them.
Grainger County Emergency Management Agency Director Jeff Atkins said the sinkhole first formed about nine years ago, and the county packed it in with "riff raff."
A water main break was reported to dispatchers Monday morning. Atkins responded and discovered that the sinkhole had opened back up. He told WVLT News it looked like the "whole road fell in."
Authorities estimated the sinkhole to be 10 to 12 feet deep and about the size of a small, plastic swimming pool. A team of county commissioners worked Tuesday to figure out if Honey Creek Lane was a county or private road. Atkins said they determined it was a road belonging to the county.
Officials with the Tennessee Emergency Management Agency, Tennessee Department of Transportation, and a geologist were all called to the scene Tuesday.
According to the Grainger County EMA, there are at least 10 homes on Honey Creek Lane where were trapped from the sinkhole.
At the time, Atkins called the situation a "safety hazard."