ORNL scientist teaches girls to code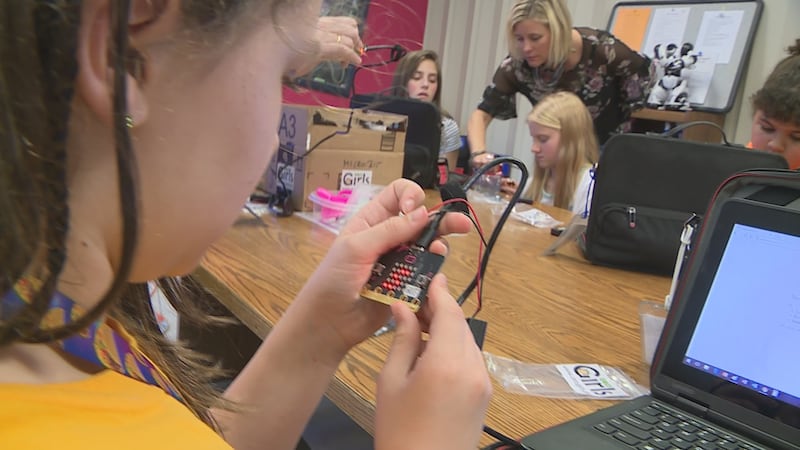 Published: May. 7, 2018 at 2:48 PM EDT
STEM careers are a man's world -- women only make up less than a quarter of jobs in science, technology, engineering and math fields. However, a scientist at Oak Ridge National Laboratory has been trying to change that.
A group of girls come to class after school to learn a new language: They're learning how to code.
"I've learned about the different type of things you can code and different ways you can code," said Anne Fuller, a fifth grade student at Jefferson Middle School.
is a non-profit that started in January 2017, partnering with
. So far, they've taught more than 500 young girls how to write code for computer programs.
"At first they were kind of nervous about trying new things and didn't really understand it, but at the end of the course they've been able to code entire programs," said Alanna Hunsaker, program director for Girls Inc. of the Tennessee Valley.
Dr. Thomas Proffen, a computer scientist at ORNL, noticed his daughter was missing opportunities to learn code compared to some boys, so he started a program just for girls.
"It always amazes me what they can do if they don't hold themselves back. If you just encourage them. When you're putting together a class and you think, 'Is this too complicated or not?' most of the time it amazes me what they can do. And then the sense of accomplishment," said Proffen.
"At first, I thought it was going to be really hard, but as he brought his machine and showed us how to use it it became easier," said Aaliyah Satchel, an eighth grade student at Jefferson Middle School.
The goal is to get more girls to consider careers in STEM. The Department of Education says college majors in STEM fields go on to earn an average of $65,000 a year, which is $15,000 more than the average sallary from other college majors.
Last year, women only made up 24 percent of jobs in STEM fields, according to the Department of Commerce.
"I helped a young girl coding and when she finally got there she looked at me and said, 'My brother told me coding was hard.' So, there's this whole notion that they thought it was not for me so they weren't trying, and if there's one thing I want to fix, it's exactly that. Anybody can do this, they just have to try," said Proffen.
"First of all, it's fun. Second of all, it gives you empowerment that girls can do it, boys can do it, anyone can do it if you set your mind to it. Anybody can do anything," said Kadeja Mize, a sixth grade student at Jefferson Middle School.