Alcoa woman says Travis Reinking verbally assaulted family in February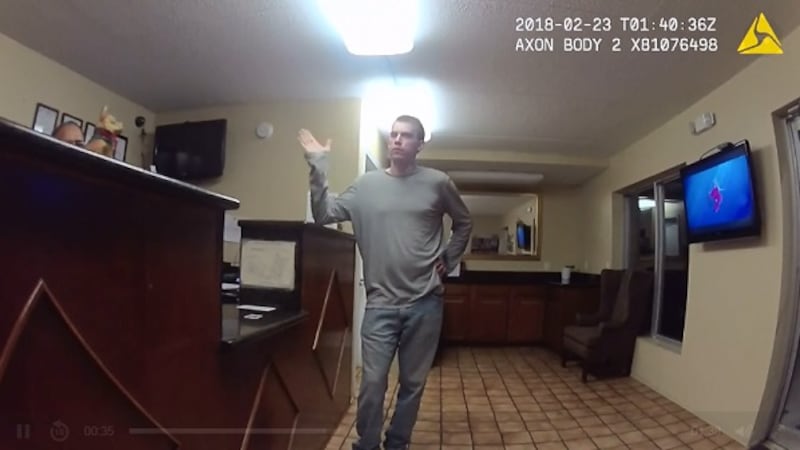 Published: Apr. 25, 2018 at 12:04 PM EDT
The man accused of fatally shooting four at an Antioch Waffle House on Sunday allegedly charged into a woman's Alcoa motel room in February and threatened her family.
An officer with the Alcoa Police Department responded to a reported verbal assault around 8:30 p.m. Feb. 23 at the Alcoa Inn, 2450 Airport Highway. The victim, 33-year-old Samantha Veals, met the officer outside her room with her two young boys in tow.
Veals told the officer she was trying to put her boys to sleep when the suspect, 29-year-old Travis Reinking, was yelling right outside of her motel room. Veals told the officer she opened her door and said, "would you be quiet? My sons are trying to sleep."
"I can be as loud as I want," Reinking allegedly told Veals before she said he charged at her.
"He was out there by that white truck; literally ran into my hotel and tried to hit me, acting like he was going to put his hands on me," Veals told WVLT on Wednesday.
According to the police report, Veals backed into her room and Reinking followed her, walking about five feet into the room. Veals told the officer he balled up his fist "as if he was going to strike" and she screamed. Reinking allegedly then "laughed and walked back outside of the room."
The responding officer wrote that Veals was "visibly upset and was physically shaking when she handed me her identification." According to the police report, Veals' sons also "made comments about the 'bad man' and the 'man who came in here.' "
"It's definitely scary. I don't put anything past anyone anymore," Veals said of her encounter. "He was willing to scare my kids and he didn't even know them. He didn't care they were frightened."
An officer then found Reinking, who said he was in town for a construction job and woke up every morning by 4 a.m. for it. According to the police report, he explained to the officer that the hallway near his room had been noisy since he checked in and he'd "had enough." Reinking allegedly told the officer that he decided to "show them what it's like" by running around and yelling, too.
"You could tell he was either on drugs or he got mental problems, bad," Veals said.
Reinking allegedly told the officer that he did yell at Veals, but denied charging into her room in a threatening manner.
While speaking with officers, Reinking already was getting a refund on the motel room he'd rented for the duration of his stay and was planning to find a new place to stay.
The officer relayed this information to Veals, saying "her fears of a continued assault could be placed at ease." The officer also told her that he could not arrest Reinking, but she could choose to press charges. Veals decided against pressing charges, then the case was closed.